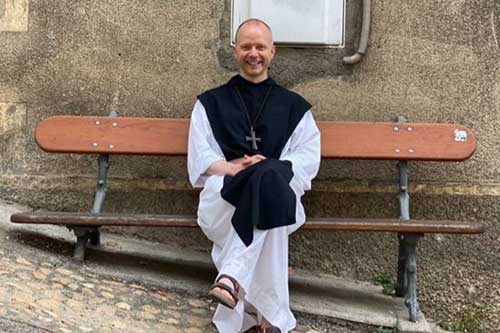 In the week in which we commemorate Hugh of Lincoln, Erik Varden is a current reminder of a contemplative monk living a very active ministry beyond monastery walls. Erik is a Cistercian monk, now a bishop.
I have a passion for bringing and living monastic insights beyond cloister walls. I am a Cistercian Associate (akin to oblates and third order for other orders). I have been delighted to follow Erik's story, and so was enthused to spot a book by him in a (secular) bookshop:
The Shattering of Loneliness: On Christian Remembrance by Erik Varden
The chapters in this book provide medicine for the sense of loneliness that gnaws at our core if we are honest with ourselves: Remember you are dust; Do this in memory of me; The Counsellor will call everything to mind; and so on… Beautifully written, this book is a dialogue between scripture and literature, exploring what it means to be human. I am appreciating getting into it.
Erik joined the Roman Catholic Church when he was aged 19. He was born (1974) and grew up in Norway. After schooling there, he continued his education in Atlantic College, Wales, then Magdalene College, Cambridge. He received his doctorate from St John's College, Cambridge, and a Licentiate of Sacred Theology at the Pontifical Oriental Institute in Rome.
In 2002, he joined the Cistercians at Mount St Bernard Abbey (England). From 2011 to 2013 he was a professor of Syriac language, monastic history, and Christian anthropology at the Pontifical Atheneum of St. Anselm in Rome. In 2013, he returned as Superior of his monastery, becoming the abbot there in 2015.
On 3 October 2020, Eric was ordained bishop, having been appointed by Pope Francis as the Prelate of the Territorial Prelature of Trondheim in Norway. Wonderfully, the episcopal ordination was in the Norwegian Nidaros Cathedral, a cathedral of the Evangelical Lutheran Church of Norway – the state church of Norway. [The Anglican Church in Aotearoa, New Zealand and Polynesia is in full communion with the Church of Norway].
A territorial prelature is an unusual creature – it is not a diocese, but is a territory directly under the authority of the Pope.
Similar Posts: