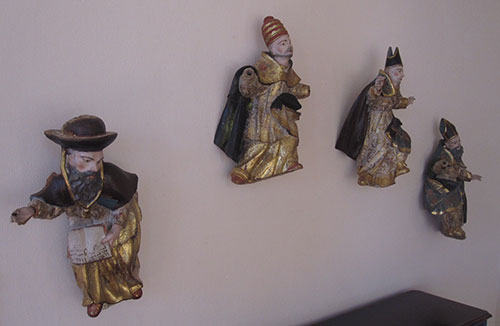 In NZ Anglicanism, the interim report from the Motion 29 Working Group (M29WG) suggests a structure within our Church which would "safeguard both theological convictions concerning the blessing of same gender relationships".
I am working towards possibly responding to that interim report – as the report requests people to do. And so this post is part of a series that's thinking things through. This is the third post – the first post is here, the second is here.
I have been helped in my reflecting by the response by the Fellowship of Confessing Anglicans New Zealand (FCANZ). In my first couple of posts, I've examined inconsistency between practice and teaching/Constitution/Formularies. FCANZ then looks at the Motion 29 Working Group's suggestion to create "Christian Communities" to provide protection for those of alternate conviction who would come under the authority of a Visiting Bishop from within our Church. The M29WG say they draw this model from the way Religious Orders are normally part of a church. Apparently our Church has not formally recognised Religious Orders in this manner by General Synod Te Hinota Whanui (GSTHW), and the M29WG proposal, they say, would at the same time remedy this. I have a side concern that, from my conversations, it seems that the Religious Orders have not been consulted – at least not widely about this! Recognise Religious Orders formally, by all means, but do that as an independent action. It seems astonishing to me that the first formal recognition of Religious Orders in our Church would occur in structural accomodation to enable the Blessing of Committed Same-Sex Couples! If my conversations have been misinformed, and the Religious Orders have been widely consulted by the M29WG, then I apologise, and will withdraw my indignation, and update this post – let me know.
To continue: FCANZ finds the M29WG's episcopal oversight inadequate and propose, (writing in bold), that
Ministry units of a conviction different to their diocesan Bishop must be able to have alternative, rather than simply additional, episcopal oversight.
Essentially, this is a model (often called 'flying bishops') followed in the Church of England for those unable to receive the ministry of women bishops or priests. At issue, for FCANZ, is
when a diocesan Bishop allows (or prohibits) practices within their Diocese/Hui Amorangi that members of the Community believe to be unconstitutional or inappropriate
I would suggest that there have previously been situations where bishops have allowed practices that others have found inappropriate. Yet, we have managed without alternative episcopal oversight.
The question arises: what do FCANZ see as the function of the diocesan/Hui Amorangi bishop? Are all communities and individuals who sign up to FCANZ in full agreement with women bishops? If they say they agree with women being bishops and they are under the oversight of a woman bishop, can they demonstrate their concurrence by pointing to the most recent time they have had the bishop preach at their main service? Otherwise, just as highlighted in the previous paragraph, why did FCANZ not call for flying bishops when it became possible to have women bishops (or divorced-and-remarried bishops, as another possibility)? Why now, as the Blessing of Committed Same-Sex Couples becomes a possibility, is there the call for alternative episcopal oversight?
Some are calling for a deeper study of ecclesiology, of marriage, of sexuality. Again, these feel like further delaying tactics. Where were the calls for deeper study of ecclesiology when we created the novelty of a Three Tikanga Church, or of having two co-equal bishops in one diocese, or three Primates? Where were the calls for deeper study of marriage when we changed the Canon of Marriage to allow divorced people to be married in church?
To be continued…
If you appreciated this post, do remember to like the liturgy facebook page, use the RSS feed, and sign up for a not-very-often email, …
image source: my photo
Similar Posts: