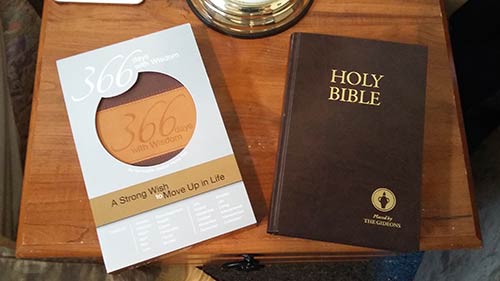 I've been away having some vacation time on both main islands of NZ, visiting cities, towns, villages, and rural areas. Such time travelling, as usual, gives me a different perspective – and extra time for reflection.
I noticed…
Never once did I publicly see a single person wearing a clerical collar or anyone in a Religious habit. Church buildings were generally locked. Yes – some were open. Not a single one of the open ones had anyone inside. One was unlocked, and when I opened the door, it set off the alarm!
I stayed in hostels, back-packers, motels – not a single one had any information about churches or church services. This used to be standard, both in the information book in the room and often on cards or brochures in the lobby.
Many still had a Gideon's Bible. One had both a Gideon's Bible and a (very attractive) Buddhist book (photo above). One had this Buddhist book and no Bible.
Here's a thought: Why do vicars write a reflection on the weekly pew sheet? The ones I saw were (as they so often are) a mini-sermon, a meditation. Some could do with being run through a spell and grammar checker. If they are being delivered to a large number of non-church-attending households – they have a different function than addressing the weekly, in-the-pews, faithful. That, I suspect, was the origin of this habit – the vicar reaching beyond the church building's walls. That's not the tone of what I read. And I don't get the impression that these pew-sheets are being dropped off around the neighbourhoods in large numbers. Also, in our internet world, I invite you to rethink this habit…
Walking along a street, I had a conversation with one person which began when I commented on her dog. She brought God, her church, and her church's website naturally into the conversation. It was unthreatening and unforced – we need a lot more people to be like this…
Looking around at the age range and the style of music at a (Anglican) service, I realised (read 'suspected') that a lot (majority?) of these people were running on the afterglow of the 1960s Billy Graham's crusades and charismatic renewal. We need renewal again in our own day, appropriate for these new times. Have we, perhaps, missed God's movement (by our focusing on and emphasising what is less important – majoring on minors)…?
If you appreciated this post, do remember to like the liturgy facebook page, use the RSS feed, and sign up for a not-very-often email, …
Similar Posts: