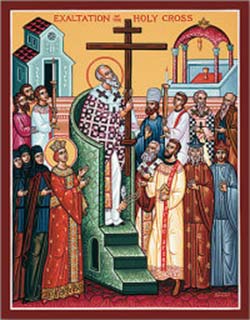 September 14 is Holy Cross Day, the Feast of the Exaltation of the Holy Cross, the Triumph of the Cross.
For Roman Catholics this feast takes precedence over the Sunday in Ordinary Time, for Anglicans it can be observed on the Sunday or on the next suitable weekday.
St Helena, discovered the true cross of Jesus 14 September 326 and had a basilica in Jerusalem built over the spot. This Church of the Holy Sepulchre was dedicated on 14 September 335.
The Rule of St Benedict 41:6 changes the eating habits in the monastery on this date, hence this starts what is called "monastic Lent".
From the Ides of September until the beginning of Lent let them always take their dinner at the ninth hour.
From now until Easter St Benedict has three nocturns of psalms and readings at Matins.
The Episcopal Church's Book of Common Prayer (page 18) has "The Ember Days, traditionally observed on the Wednesdays, Fridays, and Saturdays after the First Sunday in Lent, the Day of Pentecost, Holy Cross Day, and December 13″. The mnemonic is "Lenty, Penty, Crucy, Lucy".
These days can be associated with changes in the seasons. I have in the past also tried to discover if there are connections with our Jewish roots.
As in Benedict's Rule, we too might change our pace. In the Southern Hemisphere we can take on some of the Spring practices that our Northern Hemisphere siblings attach to Lent.
The Church of England provides a number of resource.
More reflections on the Feast of the Exaltation of the Holy Cross
Similar Posts: