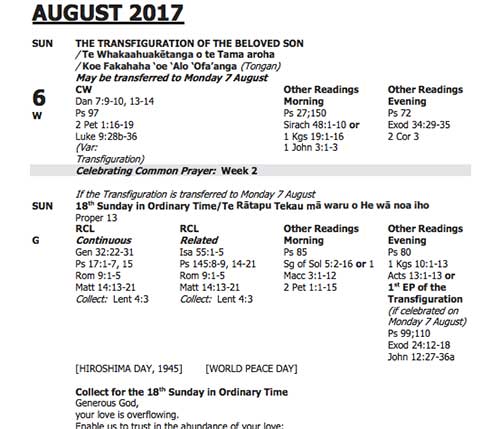 For this coming Sunday, the Lectionary booklet of the Anglican Church in Aotearoa, New Zealand and Polynesia (also known as the Anglican Church of Or) provides for an option where "the Transfiguration is transferred to Monday 7 August" (see image above). But this option is not allowed for in our Church's Formularies (the agreed teaching and practices of our Church).
The Transfiguration is a Principal Feast and our Church has agreed (at the highest level – Formulary) "the liturgical provision for them should not be displaced by any other celebration". (You can find the Formulary here).
The Lectionary booklet justifies providing an alternative ("Or" Ordinary Sunday 18) for this coming Sunday on its page 138 where it claims that
General Synod made the following provisions for precedence in liturgical observance…. The following Principal Feasts are to be observed: … The Transfiguration of the Beloved Son, …These are indicated in the The Lectionary by the use of BOLD CAPITALS. On these days the Eucharist is normally celebrated. These days are not normally displaced by any other celebration except in accord with the guidelines provided by General Synod as indicated in The Lectionary.
I am unaware of General Synod making the provisions that the Lectionary booklet claims for itself. When did General Synod change our agreement from "should not be displaced" to the Lectionary booklet's claim: "are not normally displaced"?
I am fine about being demonstrated to be incorrect – so please correct me if I am wrong – but my understanding is that, whether we like it or not, we have agreed by Formulary (the complex, twice to General Synod, debating and voting in every diocesan synod and hui amorangi, and a year for anyone to object) that this coming Sunday we will celebrate the Transfiguration. If I am incorrect, then this is an "OR" I have been unaware of in our Anglican Church of Or. And there must, then, be even more ORs than I had previously thought – including that we can follow the Lectionary booklet OR our Church's Formulary published on our Church's official website – even though these contradict each other. How Anglican would that be!
Here, then, is a collect for this coming (Transfiguration) Sunday:
Let us pray (in silence) [that we may grow into the likeness of Christ]

pause

Transfiguring God,
before the passion of your beloved Son
you revealed his glory on the holy mountain:
grant that we who by faith behold the light of his face
may be strengthened to bear the cross,
and be changed into his likeness from glory to glory;
through the same Jesus Christ
who is alive and reigns with you,
in the unity of the Holy Spirit,
one God, now and for ever.
Amen.
And here is my reflection connecting the Transfiguration, Hiroshima, and World Peace day:
On this day in 1945, someone climbed not a holy mountain, but into the cockpit of a plane – a machine of war. There had been a lull of a week in the fighting between America and Japan. The Americans had a new secret weapon and they wanted to use it with the maximum psychological effect. On August 6 an atomic bomb was dropped on Hiroshima.

Here we have a new voice booming from heaven. Here too was brightness, brilliant as burning magnesium. Here too is a cloud that has come and has covered us all with shadow. Truly, under the shadow of this new cloud, we are right to feel afraid.

The shape of that cloud hangs now forever in our sky. Look at the shape of that cloud. It is the new tree of the knowledge of good and evil. We have eaten of its fruit and we shall never be the same again.

We today commemorate Hiroshima day, world peace day, by telling again the story of another climb, another light, another voice, another cloud. Jesus there was speaking of his departure, which he was about to accomplish at Jerusalem. Jesus was speaking of his death, his destruction by another tree, the cross. And we meet today below that cross, to break bread and proclaim the victory of Christ's death over every evil, even the total annihilation by human evil.

See more here.
For some further reflection on Lectionary issues you can begin here:
Beginning 2017 in The Anglican Church of Or
Continuing 2017 in The Anglican Church of Or
Anglican Church of Or Breaks Agreement Again
It may be worth repeating that in the Anglican Church of Or
liturgy generally, and the lectionary specifically, is presented as an opaque, esoteric hobby that even the top experts of our church cannot agree on or get right. Why bother with it?! Any of it.
Ps. The heading (source) for the readings (propers) for the Transfiguration in the Lectionary booklet is "CW" (The Church of England's Common Worship). Shouldn't that heading be ANZPB/HKMOA (our own Prayer Book)? CW has no formal status in our church.
PPs. The readings for the Transfiguration in the Lectionary booklet are from CW – these are actually different to the readings that are the agreed Formularies of our Church. The readings for Sunday actually are
Daniel 7:9-14 (or 9-10,13-14)
Psalm 97
2 Peter 1:16-19(-21)
Matthew 17:1-9
If you appreciated this post, do remember to like the liturgy facebook page, use the RSS feed, and sign up for a not-very-often email, …
Similar Posts: