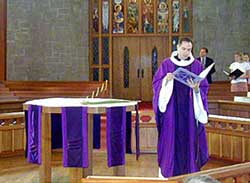 I have already reflected on giving up eggs during Lent (Northern Hemisphere early Spring) to allow eggs to hatch, rather than being eaten, and so replenish our supply of chickens.
Obviously Northern Hemisphere early Spring (Lent) is when the stored grain is running out. One would use the grain for sowing, and so have to cut down on what one used for eating in order to (as with eggs and future chickens) have food in the future. Scrapings in the grain store, not suitable for sowing,… make them into …pancakes! So one would have given up food or eaten less in Northern Hemisphere Lent because… there was none or little.
I have been told even the start of the military campaigning season was often delayed until the grain was collected – so that you could feed your army – at home or at your enemies expense.
I am not sure about the history of flowers in church, but a quick glance indicates that has been a practice for at least about a millennium (here and here). In early Northern Hemisphere Spring (Lent) there are few flowers. And the flowers that are there would often be blossoms. Picking blossoms for church, again, would cut down the future food supply, so not putting flowers in church in Lent allows an abundant fruit harvest.
In over half the planet none of this means anything. In the Southern Hemisphere at this time of Lent (early Autumn) food is fresh and plentiful, fruit is ripening, and so forth. We have not seriously begun the work of inculturation of the liturgy. In our global village I am not advocating that the Southern Hemisphere move the liturgical seasons. We need to find the essence of the liturgical season and embody that essence into our own context. As I say, we have a lot of work to do on that. This linked reflection of mine is one small step on that journey.
If you appreciated this post, there are different ways to keep in touch with the community around this website: like the facebook page, follow twitter, use the RSS feed,…
Similar Posts: