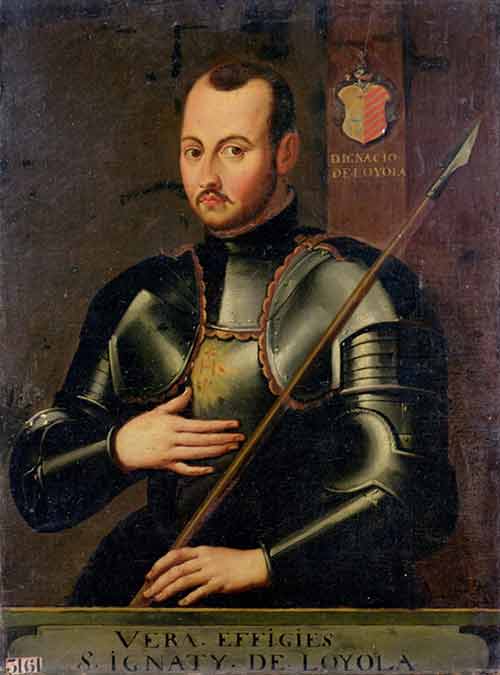 Lord, teach me to be generous.
Teach me to serve you as you deserve;
to give and not to count the cost,
to fight and not to heed the wounds,
to toil and not to seek for rest,
to labour and not to ask for reward,
save that of knowing that I do your will. Amen.
Recently, it was the feast of St Ignatius of Loyola. Like many of you, I prayed the above prayer attributed to him. But, even though it has the feel of the sort of prayer that fits with his life (including his brave, unyielding soldier background) it's not his.
Iñigo de Loyola was born in 1491 in Basque Country. He loved military exercises and dreamt of fame. He was wounded in a battle in Pamplona, fracturing his leg. During his recovery he read the life of Christ and of saints and found that his visualising himself with them gave him peace, while his fantasies of worldly exploits did not. Noting this led to his conversion and began the foundations of his later work, The Spiritual Exercises. He went on to be a pilgrim, to live as a hermit in a cave, to study for the priesthood, and to found the Society of Jesus (Jesuits).
One suggestion has that the earliest attribution of the above prayer to St Ignatius occurs in 1897 in Xavier de Franciosi's La dévotion à saint Ignace (Montreuil-sur-Mer, imprimerie Notre Dame des Prés).
Another is that it originates with a French Jesuit, Fr Jacques Sevin SJ, about 1910, as a sort of 'scouts' prayer'. This Jesuit origin would explain the way that it feels Ignatian without going back to him.
The prayer in English is composed of strong, concrete, mono-sylabic words generally of Anglo-Saxon origin.
This [the compact sense of the prayer] is an effect easy to produce in English, which is no longer an inflected language utilising different word-endings. Moreover, the ten-fold repetition of infinitives in the prayer creates a regular rhythmic effect, like waves; and so also does the pattern shown in lines 3-6, stressing a and not b, c and not d, e and not f, g and not h.
The ideas for this blog post are drawn from here
If you appreciated this post, do remember to like the liturgy facebook page, use the RSS feed, and sign up for a not-very-often email, …
image source of Ignatius the soldier
Similar Posts: