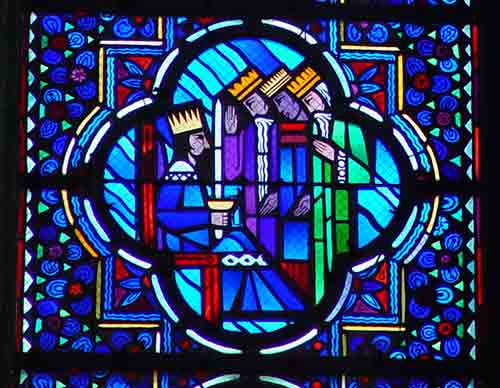 Then Herod secretly called for the wise men and learned from them the exact time when the star had appeared. Then he sent them to Bethlehem, saying, 'Go and search diligently for the child; and when you have found him, bring me word so that I may also go and pay him homage.' When they had heard the king, they set out; and there, ahead of them, went the star that they had seen at its rising, until it stopped over the place where the child was. (Matthew 2:7-9)

Τότε Ἡρώδης λάθρα καλέσας τοὺς μάγους, ἠκρίβωσεν παρ᾽ αὐτῶν τὸν χρόνον τοῦ φαινομένου ἀστέρος καὶ πέμψας αὐτοὺς εἰς Βηθλεὲμ, εἶπεν, Πορευθέντες, ἀκριβῶς ἐξετάσατε περὶ τοῦ παιδίου ἐπὰν δὲ εὕρητε, ἀπαγγείλατέ μοι, ὅπως κἀγὼ ἐλθὼν προσκυνήσω αὐτῷ οἱ δὲ ἀκούσαντες τοῦ βασιλέως, ἐπορεύθησαν καὶ ἰδοὺ ὁ ἀστὴρ ὃν εἶδον ἐν τῇ ἀνατολῇ, προῆγεν αὐτοὺς, ἕως ἐλθὼν ἔστη ἐπάνω οὗ ἦν τὸ παιδίον
Matthew is following (either consciously or within the accepted cultural approach) the Progymnasmata (rhetorical exercises), for example attributed to Hermogenes of Tarsus. Hermogenes tells the students to begin with origin and birth (Matthew looks at race and family in the genealogy). Then, they are to describe marvels at the birth, including dreams and signs. Matthew's star, dreams, angels, Magi, gifts, and fulfilment of prophecies all fit into these protocols.
Ἰουδαίων (Matthew 2:2) NRSV translates as "Jews". This should be "Judeans". The term, in Matthew, always refers to "of Judea" (cf. Galilean, Perean). Ἰσραήλ ("Israel") is first mentioned in Matthew 2:6. In Matthew, the people are "Israel" (not "Jews").
A rhetorical practice was to praise the city from where the person comes. In an honour culture, honour is received by being born in an honourable city. Matthew manages that, as we have seen, by turning the prophecy upside down.
λάθρᾳ – secretly. In the honour-shame culture that this is set in, there was very little privacy. You do honourable things openly. λάθρᾳ (secretly) indicates that this is a dishonourable act.
Clearly Herod has no intention to "go and pay him homage" – quite the opposite. His true intention will soon appear.
NB. Herod wants to know "the exact time when the star had appeared". This dating will become significant as the story progresses.
"ahead of them, went the star" – this star does not move in the manner of a natural phenomenon.
Herod was unconcerned about a challenge from the West, but he certainly feared what might come from the East. For example, from 37 BC, Herod built fortresses along his eastern border (see Josephus' Antiquities of the Jews, Book 14:335-369 and Book 17:23).
The Magi appear not to know about Herod's reputation. And even Herod appears to have no doubt that he has duped the Magi. They leave him unescorted.
This is the eighteenth post in a series – you can begin here:
Matthew in Slow Motion 1
Matthew in Slow Motion 2
Matthew in Slow Motion 3
Matthew in Slow Motion 4
Matthew in Slow Motion 5
Matthew in Slow Motion 6
Matthew in Slow Motion 7
Matthew in Slow Motion 8
Matthew in Slow Motion 9
Matthew in Slow Motion 10
Matthew in Slow Motion 11
Matthew in Slow Motion 12
Matthew in Slow Motion 13
Matthew in Slow Motion 14
Matthew in Slow Motion 15
Matthew in Slow Motion 16
Matthew in Slow Motion 17
As this year the Sunday Gospel readings' focus is on St Matthew's Gospel, I thought I'd start some of my personal study and Lectio Divina with that Gospel. [NB. I am using 'Matthew' as a convenient term for the author of the first Gospel in the order of the Christian canon].
If you appreciated this post, do remember to like the liturgy facebook page, use the RSS feed, and sign up for a not-very-often email, …
image source: Three Wise Men Visit King Herod; Composition by J. Le Breton; glass studio of Gaudin, Cathédrale d'Amiens, 1933
Similar Posts: