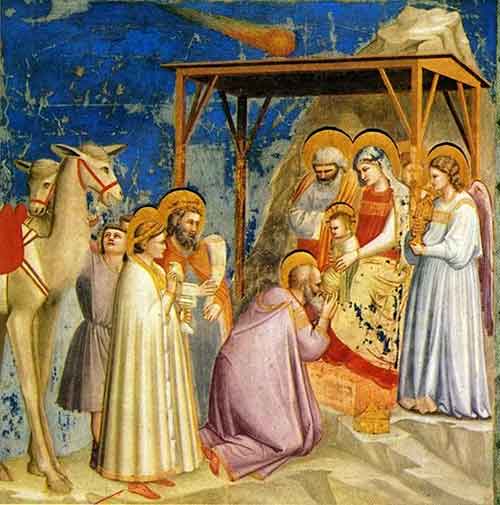 asking, 'Where is the child who has been born king of the Jews? For we observed his star at its rising, and have come to pay him homage.' (Matthew 2:2)

λέγοντες, Ποῦ ἐστιν ὁ τεχθεὶς βασιλεὺς τῶν Ἰουδαίων εἴδομεν γὰρ αὐτοῦ τὸν ἀστέρα ἐν τῇ ἀνατολῇ, καὶ ἤλθομεν προσκυνῆσαι αὐτῷ
ἤλθομεν προσκυνῆσαι αὐτῷ – "we have come to pay him homage". This verb is repeated, punctuating this story. The magi represent the Gentiles who will come paying homage to the Messiah (cf Psalm 72:10-11).
βασιλεὺς τῶν Ἰουδαίων – King of the Jews: The only other times that Matthew uses this title is when Jesus is charged (Matthew 27:11, 29, 37). So, here, it appears that Matthew is anticipating Jesus' death.
τὸν ἀστέρα ἐν τῇ ἀνατολῇ – the star in the East. Heavenly signs were thought to accompany the birth of signifcant people.
Matthew 2:1 has ἀνατολῶν (Magi from the East); here, the variant is ἀνατολῇ. Literally, the Greek word for "East" is "the rising". The same happens from Latin: "orient" comes from a Latin word for "the rising": oriens. So, there is the association with light – and all that this metaphor means.
Isaiah 60:1-6 is clearly alluded to in the magi story. It begins:
Arise, shine; for your light has come,
and the glory of the Lord has risen upon you.
which in the Septuagint is:
Φωτίζου φωτίζου, Ιερουσαλημ, ἥκει γάρ σου τὸ φῶς, καὶ ἡ δόξα κυρίου ἐπὶ σὲ ἀνατέταλκεν.
You will notice that in "has risen upon you", the verb has the same root as what is translated in Matthew as "East": ἀνατέταλκεν
This ἀνατολή root is present in the Septuagint of Numbers 24:17 where "a star [NB!] shall come [literally, rise – ἀνατελεῖ] out of Jacob":
Δείξω αὐτῷ, καὶ οὐχὶ νῦν· μακαρίζω, καὶ οὐκ ἐγγίζει· ἀνατελεῖ ἄστρον ἐξ Ιακωβ, καὶ ἀναστήσεται ἄνθρωπος ἐξ Ισραηλ καὶ θραύσει τοὺς ἀρχηγοὺς Μωαβ καὶ προνομεύσει πάντας υἱοὺς Σηθ.
The star, then, becomes a symbol of the Messiah.
Jeremiah 23:5 (cf. Isaiah 11:1) has
The days are surely coming, says the Lord, when I will raise [NB ἀνατολὴν] up for David a righteous Branch, and he shall reign as king and deal wisely, and shall execute justice and righteousness in the land.
Again in the Septuagint:
ἰδοὺ ἡμέραι ἔρχονται λέγει κύριος καὶ ἀναστήσω τῷ Δαυιδ ἀνατολὴν δικαίαν καὶ βασιλεύσει βασιλεὺς καὶ συνήσει καὶ ποιήσει κρίμα καὶ δικαιοσύνην ἐπὶ τῆς γῆς
The word is there again in Matthew 4:16. Matthew quotes Isaiah 8:23-9:1 – light shining on those in darkness.
The Gentiles, in this overture to Matthew's work, stand for all nations whom we, in Matthew 28:19, are sent out to.
This is the sixteenth post in a series – you can begin here:
Matthew in Slow Motion 1
Matthew in Slow Motion 2
Matthew in Slow Motion 3
Matthew in Slow Motion 4
Matthew in Slow Motion 5
Matthew in Slow Motion 6
Matthew in Slow Motion 7
Matthew in Slow Motion 8
Matthew in Slow Motion 9
Matthew in Slow Motion 10
Matthew in Slow Motion 11
Matthew in Slow Motion 12
Matthew in Slow Motion 13
Matthew in Slow Motion 14
Matthew in Slow Motion 15
As this year the Sunday Gospel readings' focus is on St Matthew's Gospel, I thought I'd start some of my personal study and Lectio Divina with that Gospel. [NB. I am using 'Matthew' as a convenient term for the author of the first Gospel in the order of the Christian canon].
If you appreciated this post, do remember to like the liturgy facebook page, use the RSS feed, and sign up for a not-very-often email, …
Similar Posts: