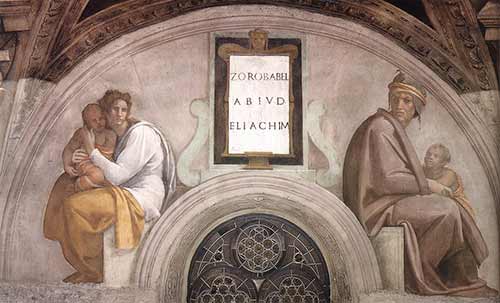 and Zerubbabel the father of Abiud, and Abiud the father of Eliakim, and Eliakim the father of Azor, and Azor the father of Zadok, and Zadok the father of Achim, and Achim the father of Eliud, and Eliud the father of Eleazar, and Eleazar the father of Matthan, and Matthan the father of Jacob, and Jacob the father of Joseph the husband of Mary, of whom Jesus was born, who is called the Messiah. (Matthew 1:13-16)
Ζοροβάβελ δὲ ἐγέννησεν τὸν Ἀβιούδ Ἀβιοὺδ δὲ ἐγέννησεν τὸν Ἐλιακείμ Ἐλιακεὶμ δὲ ἐγέννησεν τὸν Ἀζώρ
Ἀζὼρ δὲ ἐγέννησεν τὸν Σαδώκ Σαδὼκ δὲ ἐγέννησεν τὸν Ἀχείμ Ἀχεὶμ δὲ ἐγέννησεν τὸν Ἐλιούδ
Ἐλιοὺδ δὲ ἐγέννησεν τὸν Ἐλεάζαρ Ἐλεάζαρ δὲ ἐγέννησεν τὸν Ματθάν Ματθὰν δὲ ἐγέννησεν τὸν Ἰακώβ
Ἰακὼβ δὲ ἐγέννησεν τὸν Ἰωσὴφ τὸν ἄνδρα Μαρίας, ἐξ ἧς ἐγεννήθη Ἰησοῦς, ὁ λεγόμενος Χριστός
This is the ninth post in a series – you can begin here:
Matthew in Slow Motion 1
Matthew in Slow Motion 2
Matthew in Slow Motion 3
Matthew in Slow Motion 4
Matthew in Slow Motion 5
Matthew in Slow Motion 6
Matthew in Slow Motion 7
Matthew in Slow Motion 8
As this year the Sunday Gospel readings' focus is on St Matthew's Gospel, I thought I'd start some of my personal study and Lectio Divina with that Gospel. [NB. I am using 'Matthew' as a convenient term for the author of the first Gospel in the order of the Christian canon].
I've already noted that Zerubbabel was last in Matthew's list for whom there is Old Testament mention. For all the rest in Matthew's list, he is not using the Old Testament as a source.
Some commentators suggest that Matthew got his list from genealogies kept in the Temple (e.g. Michael J. Wilkins).
There is inconsistency between Matthew's genealogy and Luke's. This, of course, is of concern to those who must have every historical detail in the Bible correct. Solutions include that
Matthew give the genealogy of Jesus through Joseph, the legal, though not the physical father of Jesus. Luke, on the other hand, gives the ancestry of Jesus through Mary from whom Jesus was descended physically as to his humanity.
That would be nice, but, of course, it's false. Both trace the genealogy to Joseph.
So, for example, Matthew has Joseph's dad being Jacob. Luke has Joseph's dad being Heli.
Matthew, in his story, stresses Joseph as a dreamer. To reinforce this point, in echoing the Old Testament Joseph-the-dreamer connection, he has this New Testament Joseph having a dad named the same as the Old Testament Joseph.
Modern scholarship tends to see the genealogies of Jesus as theological constructs rather than factual history: family pedigrees would not usually have been available for non-priestly families, and the contradictions between the two lists are seen as clear evidence that these were not based on genealogical records. Additionally, the use of titles such as 'Son of God' and 'Son of David' are seen as evidence that they do not come from the earliest Gospel traditions. Raymond E. Brown says the genealogies "tell us nothing certain about his grandparents or his great-grand-parents".

Gundry suggests the series of unknown names in Matthew connecting Joseph's grandfather to Zerubbabel as an outright fabrication.
To be continued…
If you appreciated this post, consider liking the liturgy facebook page, using the RSS feed, and/or signing up for a not-very-often email, …
Similar Posts: