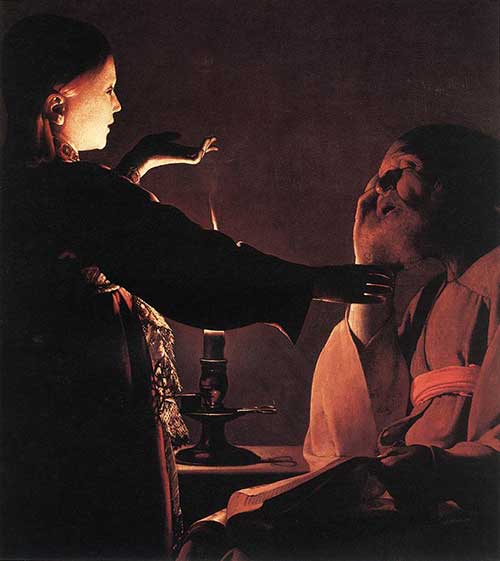 But just when he had resolved to do this, an angel of the Lord appeared to him in a dream and said, 'Joseph, son of David, do not be afraid to take Mary as your wife, for the child conceived in her is from the Holy Spirit. She will bear a son, and you are to name him Jesus, for he will save his people from their sins.' All this took place to fulfil what had been spoken by the Lord through the prophet:
'Look, the virgin shall conceive and bear a son,
and they shall name him Emmanuel',
which means, 'God is with us.' (Matthew 1:20-23).

ταῦτα δὲ αὐτοῦ ἐνθυμηθέντος, ἰδοὺ ἄγγελος Κυρίου κατ᾽ ὄναρ ἐφάνη αὐτῷ, λέγων, Ἰωσὴφ υἱὸς Δαβὶδ, μὴ φοβηθῇς παραλαβεῖν Μαριὰμ τὴν γυναῖκά σου τὸ γὰρ ἐν αὐτῇ γεννηθὲν, ἐκ Πνεύματός ἐστιν ἁγίου. τέξεται δὲ υἱὸν, καὶ καλέσεις τὸ ὄνομα αὐτοῦ Ἰησοῦν αὐτὸς γὰρ σώσει τὸν λαὸν αὑτοῦ ἀπὸ τῶν ἁμαρτιῶν αὐτῶν. Τοῦτο δὲ ὅλον γέγονεν ἵνα πληρωθῇ τὸ ῥηθὲν ὑπὸ τοῦ Κυρίου, διὰ τοῦ προφήτου λέγοντος, Ἰδοὺ ἡ παρθένος ἐν γαστρὶ ἕξει, καὶ τέξεται υἱὸν, καὶ καλέσουσιν τὸ ὄνομα αὐτοῦ Ἐμμανουὴλ, ὅ ἐστιν μεθερμηνευόμενον, μεθ᾽ ἡμῶν ὁ Θεός.
This New Testament dreaming Joseph son of Jacob is an echo of the dreaming First Testament Joseph son of Jacob (Genesis 37). An Angel of the Lord brings God's message via a dream. We are still in Matthew's overture – we will see an Angel of the Lord bringing God's message through dreams again further into Matthew's story.
Joseph, son of David – we've already explained in previous posts in this series that "son of" can be taken to mean descendent of.
take as your wife – παραλαβεῖν Μαριὰμ τὴν γυναῖκά σου could be translated as "to take home Mary your wife". Let's keep this simple. We could have a lengthy post about what is known about marriage practices at the time of Joseph and Mary. Betrothal (engagement Deut 20:7; 22:23-27) was often arranged between families. This occurred at the home of the father of the bride. Marriage was the moving of the bride from her father's home to the groom's (or the groom's father's) home. We have already covered what happens when a betrothed woman is found pregnant and the betrothed man is not the father.
The angel's message follows First Testament patterns: "behold" + name + child's identity.
Jesus – in Hebrew "Yeshua" or "Yeshu" ie. "Joshua" (originally probably "YHWH helps", but connected to "save").
fulfil – a regular pattern in Matthew.
Now to Matthew's version of "what had been spoken by the Lord through the prophet" which differs from the Hebrew and the Greek original (which differ from each other):
Isaiah 7:14 has
לָכֵן יִתֵּן אֲדֹנָי הוּא לָכֶם אֹות הִנֵּה הָעַלְמָה הָרָה וְיֹלֶדֶת בֵּן וְקָרָאת שְׁמֹו עִמָּנוּ אֵֽל׃
הָעַלְמָה (almah) is actually "young woman".
The Septuagint (LXX) makes this:
διὰ τοῦτο δώσει κύριος αὐτὸς ὑμῖν σημεῖον· ἰδοὺ ἡ παρθένος ἐν γαστρὶ ἕξει καὶ τέξεται υἱόν, καὶ καλέσεις τὸ ὄνομα αὐτοῦ Εμμανουηλ·
where הָעַלְמָה (almah) becomes παρθένος (parthenos – "virgin").
Notice how Matthew's text is different again:
Ἰδοὺ ἡ παρθένος ἐν γαστρὶ ἕξει, καὶ τέξεται υἱὸν, καὶ καλέσουσιν τὸ ὄνομα αὐτοῦ Ἐμμανουὴλ
The Hebrew has "she will call"; the Greek Septuagint has "you will call"; Matthew has "they shall name him".
Such adapting and paraphrasing can be called "targumizing". It seems likely that early followers of Jesus collected First Testament quotations that expressed their beliefs about Jesus.
The original text in Isaiah speaks of a conception to a young woman. This birth will occur at the time of King Ahaz. The Septuagint has the prophecy occurring while the woman is still a virgin. Both First Testament versions do not envisage a virginal conception in the eighth century BC.
This is the thirteenth post in a series – you can begin here:
Matthew in Slow Motion 1
Matthew in Slow Motion 2
Matthew in Slow Motion 3
Matthew in Slow Motion 4
Matthew in Slow Motion 5
Matthew in Slow Motion 6
Matthew in Slow Motion 7
Matthew in Slow Motion 8
Matthew in Slow Motion 9
Matthew in Slow Motion 10
Matthew in Slow Motion 11
Matthew in Slow Motion 12
As this year the Sunday Gospel readings' focus is on St Matthew's Gospel, I thought I'd start some of my personal study and Lectio Divina with that Gospel. [NB. I am using 'Matthew' as a convenient term for the author of the first Gospel in the order of the Christian canon].
If you appreciated this post, do remember to like the liturgy facebook page, use the RSS feed, and sign up for a not-very-often email, …
Similar Posts: