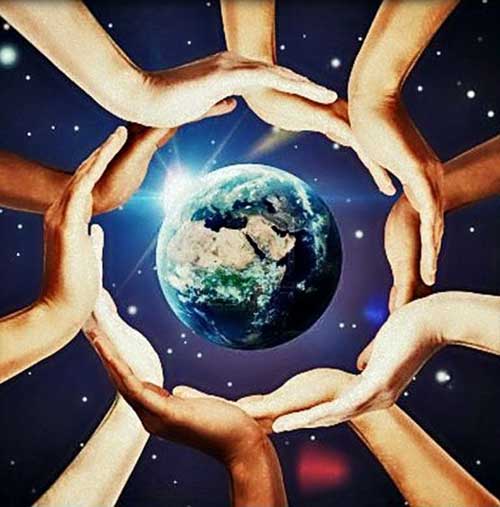 'Blessed are the meek, for they will inherit the earth.

Matthew 5:5
μακάριοι οἱ πραεῖς ὅτι αὐτοὶ κληρονομήσουσιν τὴν γῆν
πραεῖς translated here as "meek" is a weak translation. This is a plural based on the root πραΰς – a mildness of disposition, a gentleness of spirit. This is a little-used word – four times in the New Testament:
Matthew 5:5: "Blessed are the meek [πραΰς], for they will inherit the earth."
Matthew 11:29: "Take my yoke upon you, and learn from me; for I am gentle [πρᾶος – single use of this variant in the NT] and humble in heart, and you will find rest for your souls."
Matthew 21:5, quoting Zechariah 9:9: "Tell the daughter of Zion, Look, your king is coming to you, humble [πραΰς], and mounted on a donkey, and on a colt, the foal of a donkey."

1 Peter 3:4: let your adornment be the inner self with the lasting beauty of a gentle (πραΰς) and quiet spirit, which is very precious in God's sight.
Note, especially, Matthew's use of πραΰς. In the text quoted in Matthew 21:5, Zechariah continues (Zechariah 9:10): "He will cut off the chariot from Ephraim and the war-horse from Jerusalem; and the battle bow shall be cut off, and he shall command peace to the nations."
One can argue that a better translation in our context would be "nonviolent": Blessed are the nonviolent, for they will inherit the earth.
Once again: Is the reward in the present? Or is the reward of nonviolence in the future? Is God rewarding nonviolence, or is the reward intrinsic to nonviolence?
As this year the Sunday Gospel reading focus is on St Matthew's Gospel, I thought I'd start some of my personal study and Lectio Divina with that Gospel. [NB. I am using 'Matthew' as a convenient term for the author of the first Gospel in the order of the Christian canon].
This is the thirty-fifth post in a series – you can begin here:
Matthew in Slow Motion 1
Matthew in Slow Motion 2
Matthew in Slow Motion 3
Matthew in Slow Motion 4
Matthew in Slow Motion 5
Matthew in Slow Motion 6
Matthew in Slow Motion 7
Matthew in Slow Motion 8
Matthew in Slow Motion 9
Matthew in Slow Motion 10
Matthew in Slow Motion 11
Matthew in Slow Motion 12
Matthew in Slow Motion 13
Matthew in Slow Motion 14
Matthew in Slow Motion 15
Matthew in Slow Motion 16
Matthew in Slow Motion 17
Matthew in Slow Motion 18
Matthew in Slow Motion 19
Matthew in Slow Motion 20
Matthew in Slow Motion 21
Matthew in Slow Motion 22
Matthew in Slow Motion 23
Matthew in Slow Motion 24
Matthew in Slow Motion 25
Matthew in Slow Motion 26
Matthew in Slow Motion 27
Matthew in Slow Motion 28
Matthew in Slow Motion 29
Matthew in Slow Motion 30
Matthew in Slow Motion 31
Matthew in Slow Motion 32
Matthew in Slow Motion 33
Matthew in Slow Motion 34
Matthew in Slow Motion 35
Similar Posts: