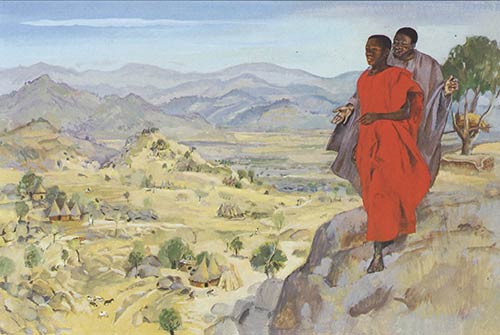 Then Jesus was led up by the Spirit into the wilderness to be tempted by the devil. He fasted for forty days and forty nights, and afterwards he was famished. The tempter came and said to him, 'If you are the Son of God, command these stones to become loaves of bread.' But he answered, 'It is written,
"One does not live by bread alone,
but by every word that comes from the mouth of God." '
Matthew 4:1-4

Τότε ὁ Ἰησοῦς ἀνήχθη εἰς τὴν ἔρημον ὑπὸ τοῦ πνεύματος πειρασθῆναι ὑπὸ τοῦ διαβόλου
καὶ νηστεύσας ἡμέρας τεσσαράκοντα καὶ νύκτας τεσσαράκοντα ὕστερον ἐπείνασεν
Καὶ προσελθὼν αὐτῷ ὁ πειράζων εἶπεν Εἰ υἱὸς εἶ τοῦ θεοῦ εἰπὲ ἵνα οἱ λίθοι οὗτοι ἄρτοι γένωνται
ὁ δὲ ἀποκριθεὶς εἶπεν Γέγραπται Οὐκ ἐπ᾽ ἄρτῳ μόνῳ ζήσεται ἄνθρωπος ἀλλ᾽ ἐπὶ παντὶ ῥήματι ἐκπορευομένῳ διὰ στόματος θεοῦ
The Spirit leads Jesus into the desert for the purpose of being tempted by the διάβολος (diabolos). This word comes from the verb διαβάλλω. This comes from διά (dia) – through, over, across (cf diameter) and βάλλω (ballo) – throw. So διαβάλλω literally means 'to throw over or across, to send over,' διάβολος means 'slanderer'.
The parallels are Mark 1:12-13 and Luke 4:1-13.
"Forty days" (v. 2) reminds us of Moses' fast on Mount Sinai (Exodus 34:28) and Elijah's fast on the same mountain (1 Kings 19:8).
In this story of Jesus being tempted by the devil, the devil quotes the Bible. Based on this story, Shakespeare wrote: "the devil can cite scripture for his purpose" (The Merchant of Venice, Act I, scene iii). The diabolical abuse of the Bible is nothing new and drawing much attention just in the last few days.
The temptation is against "You shall love the Lord your God with all your heart, … soul, and … might" (Deuteronomy 6:5)
The "word" (v. 4) of God is the chief nourishment.
As this year the Sunday Gospel reading focus is on St Matthew's Gospel, I thought I'd start some of my personal study and Lectio Divina with that Gospel. [NB. I am using 'Matthew' as a convenient term for the author of the first Gospel in the order of the Christian canon].
This is the twenty-seventh post in a series – you can begin here:
Matthew in Slow Motion 1
Matthew in Slow Motion 2
Matthew in Slow Motion 3
Matthew in Slow Motion 4
Matthew in Slow Motion 5
Matthew in Slow Motion 6
Matthew in Slow Motion 7
Matthew in Slow Motion 8
Matthew in Slow Motion 9
Matthew in Slow Motion 10
Matthew in Slow Motion 11
Matthew in Slow Motion 12
Matthew in Slow Motion 13
Matthew in Slow Motion 14
Matthew in Slow Motion 15
Matthew in Slow Motion 16
Matthew in Slow Motion 17
Matthew in Slow Motion 18
Matthew in Slow Motion 19
Matthew in Slow Motion 20
Matthew in Slow Motion 21
Matthew in Slow Motion 22
Matthew in Slow Motion 23
Matthew in Slow Motion 24
Matthew in Slow Motion 25
Matthew in Slow Motion 26
Similar Posts: