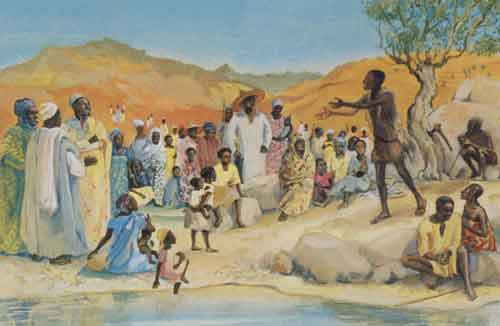 But when he saw many Pharisees and Sadducees coming for baptism, he said to them, 'You brood of vipers! Who warned you to flee from the wrath to come? Bear fruit worthy of repentance. Do not presume to say to yourselves, "We have Abraham as our ancestor"; for I tell you, God is able from these stones to raise up children to Abraham. Even now the axe is lying at the root of the trees; every tree therefore that does not bear good fruit is cut down and thrown into the fire.
(Matthew 3:7-10)
Ἰδὼν δὲ πολλοὺς τῶν Φαρισαίων καὶ Σαδδουκαίων ἐρχομένους ἐπὶ τὸ βάπτισμα αὐτοῦ εἶπεν αὐτοῖς Γεννήματα ἐχιδνῶν τίς ὑπέδειξεν ὑμῖν φυγεῖν ἀπὸ τῆς μελλούσης ὀργῆς;
ποιήσατε οὖν καρποὺς ἄξιους τῆς μετανοίας
καὶ μὴ δόξητε λέγειν ἐν ἑαυτοῖς Πατέρα ἔχομεν τὸν Ἀβραάμ· λέγω γὰρ ὑμῖν ὅτι δύναται ὁ θεὸς ἐκ τῶν λίθων τούτων ἐγεῖραι τέκνα τῷ Ἀβραάμ
ἤδη δὲ καὶ ἡ ἀξίνη πρὸς τὴν ῥίζαν τῶν δένδρων κεῖται· πᾶν οὖν δένδρον μὴ ποιοῦν καρπὸν καλὸν ἐκκόπτεται καὶ εἰς πῦρ βάλλεται

As this year the Sunday Gospel readings' focus is on St Matthew's Gospel, I thought I'd continue some of my personal study and Lectio Divina with that Gospel. [NB. I am using 'Matthew' as a convenient term for the author of the first Gospel in the order of the Christian canon].
"brood of vipers" = snake bastards!
"wrath" in an honour/shame culture is the satisfaction sought to restore honour when a person has been publicly dishonoured.
"We have Abraham as our ancestor" challenges one's claim to significance by who one is; the focus shifts to what one does.
"stones to raise up children": Aramaic for "stones" is 'abnayya; Aramaic for "children" is benayya. This is a cool pun.
This is the twenty-fifth post in a series – you can begin here:
Matthew in Slow Motion 1
Matthew in Slow Motion 2
Matthew in Slow Motion 3
Matthew in Slow Motion 4
Matthew in Slow Motion 5
Matthew in Slow Motion 6
Matthew in Slow Motion 7
Matthew in Slow Motion 8
Matthew in Slow Motion 9
Matthew in Slow Motion 10
Matthew in Slow Motion 11
Matthew in Slow Motion 12
Matthew in Slow Motion 13
Matthew in Slow Motion 14
Matthew in Slow Motion 15
Matthew in Slow Motion 16
Matthew in Slow Motion 17
Matthew in Slow Motion 18
Matthew in Slow Motion 19
Matthew in Slow Motion 20
Matthew in Slow Motion 21
Matthew in Slow Motion 22
Matthew in Slow Motion 23
Matthew in Slow Motion 24
Similar Posts: