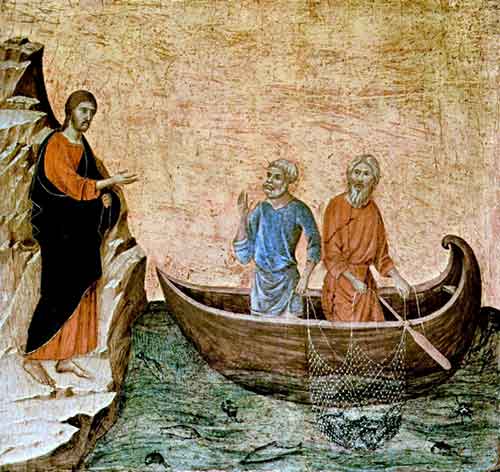 As he walked by the Sea of Galilee, he saw two brothers, Simon, who is called Peter, and Andrew his brother, casting a net into the lake—for they were fishermen. And he said to them, 'Follow me, and I will make you fish for people.' Immediately they left their nets and followed him. As he went from there, he saw two other brothers, James son of Zebedee and his brother John, in the boat with their father Zebedee, mending their nets, and he called them. Immediately they left the boat and their father, and followed him.

Matthew 4:18-22

Περιπατῶν δὲ ὁ Ἰησοῦς παρὰ τὴν θάλασσαν τῆς Γαλιλαίας εἶδεν δύο ἀδελφούς, Σίμωνα τὸν λεγόμενον Πέτρον καὶ Ἀνδρέαν τὸν ἀδελφὸν αὐτοῦ βάλλοντας ἀμφίβληστρον εἰς τὴν θάλασσαν· ἦσαν γὰρ ἁλιεῖς
καὶ λέγει αὐτοῖς Δεῦτε ὀπίσω μου καὶ ποιήσω ὑμᾶς ἁλιεῖς ἀνθρώπων
οἱ δὲ εὐθέως ἀφέντες τὰ δίκτυα ἠκολούθησαν αὐτῷ
Καὶ προβὰς ἐκεῖθεν εἶδεν ἄλλους δύο ἀδελφούς, Ἰάκωβον τὸν τοῦ Ζεβεδαίου καὶ Ἰωάννην τὸν ἀδελφὸν αὐτοῦ ἐν τῷ πλοίῳ μετὰ Ζεβεδαίου τοῦ πατρὸς αὐτῶν καταρτίζοντας τὰ δίκτυα αὐτῶν καὶ ἐκάλεσεν αὐτούς
οἱ δὲ εὐθέως ἀφέντες τὸ πλοῖον καὶ τὸν πατέρα αὐτῶν ἠκολούθησαν αὐτῷ
Fishing was done at night or early morning, after which fishermen cleaned and repaired nets.
The first use of Δεῦτε "follow" in Matthew – which is used for Jesus in the New Testament.
Fish for people is to draw them into the programme of John's now Jesus': 'Repent, for the kingdom of heaven has come near.'
There is far more involved than leaving their jobs and tools – this is intimated in "left …their father".
Jesus, having battled the devil, now goes on to form a new type of community.
As this year the Sunday Gospel reading focus is on St Matthew's Gospel, I thought I'd start some of my personal study and Lectio Divina with that Gospel. [NB. I am using 'Matthew' as a convenient term for the author of the first Gospel in the order of the Christian canon].
This is the thirtieth post in a series – you can begin here:
Matthew in Slow Motion 1
Matthew in Slow Motion 2
Matthew in Slow Motion 3
Matthew in Slow Motion 4
Matthew in Slow Motion 5
Matthew in Slow Motion 6
Matthew in Slow Motion 7
Matthew in Slow Motion 8
Matthew in Slow Motion 9
Matthew in Slow Motion 10
Matthew in Slow Motion 11
Matthew in Slow Motion 12
Matthew in Slow Motion 13
Matthew in Slow Motion 14
Matthew in Slow Motion 15
Matthew in Slow Motion 16
Matthew in Slow Motion 17
Matthew in Slow Motion 18
Matthew in Slow Motion 19
Matthew in Slow Motion 20
Matthew in Slow Motion 21
Matthew in Slow Motion 22
Matthew in Slow Motion 23
Matthew in Slow Motion 24
Matthew in Slow Motion 25
Matthew in Slow Motion 26
Matthew in Slow Motion 27
Matthew in Slow Motion 28
Matthew in Slow Motion 29
Matthew in Slow Motion 30
Similar Posts: