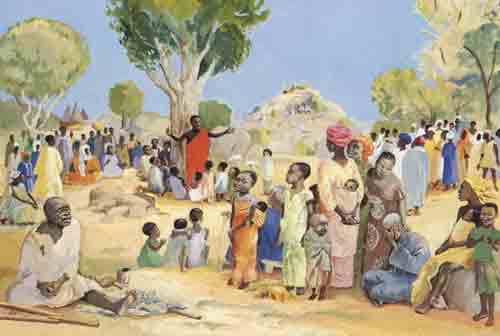 Jesus went throughout Galilee, teaching in their synagogues and proclaiming the good news of the kingdom and curing every disease and every sickness among the people. So his fame spread throughout all Syria, and they brought to him all the sick, those who were afflicted with various diseases and pains, demoniacs, epileptics, and paralytics, and he cured them. And great crowds followed him from Galilee, the Decapolis, Jerusalem, Judea, and from beyond the Jordan.

Matthew 4:23-25

Καὶ περιῆγεν ὅλην τὴν Γαλιλαίαν ὁ Ἰησοῦς, διδάσκων ἐν ταῖς συναγωγαῖς αὐτῶν καὶ κηρύσσων τὸ εὐαγγέλιον τῆς βασιλείας καὶ θεραπεύων πᾶσαν νόσον καὶ πᾶσαν μαλακίαν ἐν τῷ λαῷ
καὶ ἀπῆλθεν ἡ ἀκοὴ αὐτοῦ εἰς ὅλην τὴν Συρίαν· καὶ προσήνεγκαν αὐτῷ πάντας τοὺς κακῶς ἔχοντας ποικίλαις νόσοις καὶ βασάνοις συνεχομένους καὶ δαιμονιζομένους καὶ σεληνιαζομένους καὶ παραλυτικούς, καὶ ἐθεράπευσεν αὐτούς
καὶ ἠκολούθησαν αὐτῷ ὄχλοι πολλοὶ ἀπὸ τῆς Γαλιλαίας καὶ Δεκαπόλεως καὶ Ἱεροσολύμων καὶ Ἰουδαίας καὶ πέραν τοῦ Ἰορδάνου
Matthew expands Mark 1:39
And he went throughout Galilee, proclaiming the message in their synagogues and casting out demons.

Mark 1:39
Syria – probably the Roman province of Syria (this included Palestine)
σεληνιαζομένους (NRSV translates as "epileptics") literally "moonstruck" – in English we use "lunatic".
"great crowds" cf Mark 3:7-13:
Jesus departed with his disciples to the lake, and a great multitude from Galilee followed him; hearing all that he was doing, they came to him in great numbers from Judea, Jerusalem, Idumea, beyond the Jordan, and the region around Tyre and Sidon. He told his disciples to have a boat ready for him because of the crowd, so that they would not crush him; for he had cured many, so that all who had diseases pressed upon him to touch him. Whenever the unclean spirits saw him, they fell down before him and shouted, 'You are the Son of God!' But he sternly ordered them not to make him known.

He went up the mountain and called to him those whom he wanted, and they came to him.

Mark 3:7-13
Matthew shortens this, reverses the order: the healings first and the places second, and adds and removes locations. Matthew is possibly naming places where his text first circulated.
This is the thirty-second post in a series – you can begin here:
Matthew in Slow Motion 1
Matthew in Slow Motion 2
Matthew in Slow Motion 3
Matthew in Slow Motion 4
Matthew in Slow Motion 5
Matthew in Slow Motion 6
Matthew in Slow Motion 7
Matthew in Slow Motion 8
Matthew in Slow Motion 9
Matthew in Slow Motion 10
Matthew in Slow Motion 11
Matthew in Slow Motion 12
Matthew in Slow Motion 13
Matthew in Slow Motion 14
Matthew in Slow Motion 15
Matthew in Slow Motion 16
Matthew in Slow Motion 17
Matthew in Slow Motion 18
Matthew in Slow Motion 19
Matthew in Slow Motion 20
Matthew in Slow Motion 21
Matthew in Slow Motion 22
Matthew in Slow Motion 23
Matthew in Slow Motion 24
Matthew in Slow Motion 25
Matthew in Slow Motion 26
Matthew in Slow Motion 27
Matthew in Slow Motion 28
Matthew in Slow Motion 29
Matthew in Slow Motion 30
Matthew in Slow Motion 31
Similar Posts: