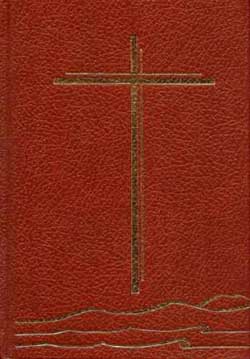 The Preface of A New Zealand Prayer Book He Karakia Mihinare o Aotearoa (ANZPBHKMA), by Archbishop Brian Davis, is dated Feast of St Barnabas 11 June 1989; twenty-five years ago today. This might be an invitation to write some posts reflecting on the Prayer Book.
In this post it is worth noting positive changes that this Prayer Book has given us.
It is not surprising that the Table for Movable Feasts (pages 942-943) ended last year. At the time of binding at-that-time-constantly-changing revised services together into a book, the thought of twenty-five years would have been difficult to foresee. Australia and the Church of England, as just two examples, are onto their next generation of Prayer Books.
A New Zealand Prayer Book He Karakia Mihinare o Aotearoa
with some exceptions took gender-inclusive language seriously not just for humans but towards God
began to give formal voice to many of the languages used in our province (English, Maori, Fijian, Tongan, as well, of course, as including the usual Greek and Hebrew…)
included contemporary New Zealand artwork produced specifically for this publication
clearly placed the Eucharist at the centre and highlighted that
included a lot of insights from Tikanga Maori to produce a strong collection of resources for around death
provided a reasonably easy-to-use Daily Office
Clearly placed the Reconciliation of a Penitent, Thanksgiving for the Gift of a Child, Ministry of Healing, and Blessing of a Home into the formal mainstream of church life
What are some of the things that you appreciate in ANZPBHKMA? Or in the Prayer Book of your province?
Similar Posts: