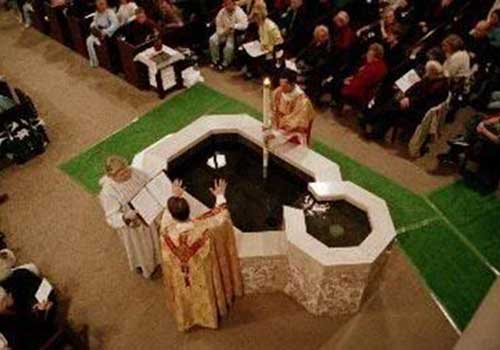 Lent brings with it "Ashes to go". Easter brings with it "Open Baptism".
The Episcopal Church of St. Mary-in-the-Highlands, Cold Spring, once again offers "Open Baptism" at their 7 p.m. Easter Vigil on Saturday, April 19.

"I know this seems highly 'unorthodox' and perhaps even 'gimmicky' to some," the Rector of St. Mary's, Fr. Shane Scott-Hamblen, explained, "but St. Mary's hopes to show that the church exists to include people — not to exclude them."

On Holy Saturday night, the church will continue to welcome — with "no questions asked" — any un-baptized person who wants to be baptized.

Those interested are requested to call Fr. Shane (845-265-2539) or arrive at the church around 6:40 p.m.

St. Mary's is reaching out to all those who have been denied baptism for whatever reason. They hope that parents or adults who forgot or "never quite got around to it," as well as those who were formerly turned away, will take full advantage of this invitation — as many other families have in the last several years.
A search online for "Open Baptism" brings up several Episcopal/Anglican Churches which have been doing that at least since the last decade.
It's not limited to Anglicans/Episcopalians. Here's what a "non-denominational" website says:
Oct. 26/27 will be an exciting weekend as we celebrate water baptism. This will be an open baptism which means during the service, Lead Pastor Steve Poe will extend an open invitation to anyone who wants to take this next step in their walk and be baptized. Come prepared with a change of clothing. FMI contact audra.kelly@northviewchurch.us.
I will be interested to hear stories, numbers, and insights from those who practice "Open Baptism". And also comments from others – as usual trying to play the ball, not the person.
Similar Posts: