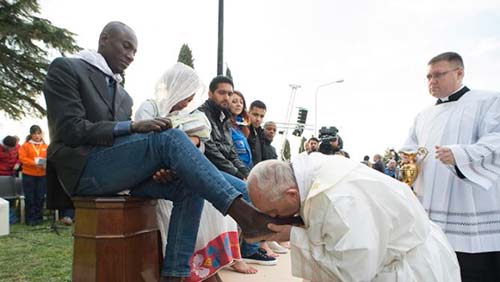 Pope Francis has managed to do it again! Upset people by declaring by word and action that all are God's people – God's children.
Remember, after the criticism of Pope Francis washing the feet of women he changed the rules.
After careful consideration…To manifest the full meaning of the rite to those who participate in it, the Holy Father Francis has seen fit to change the rule by in the Roman Missal
The conservative-Roman-Catholic, "Reading-Francis-Through-Benedict", internet-sensation John Zuhlsdorf at the time wrote,
In Card. Sarah's Decree we read that "it seemed good to the Supreme Pontiff Francis to change the norm". Thus, now: Missalis Romani (p. 300 n. 11) legitur: «Viri selecti deducuntur a ministris…», quae idcirco sequenti modo mutari debet: «Qui selecti sunt ex populo Dei deducuntur a ministris…» (et consequenter in Caeremoniali Episcoporum n. 301 et n. 299 b: «sedes pro designatis»).

I note, however, that – in the Missale Romanum – the group from which people might be selected is restricted to "Populus Dei… the People of God", which means, I think, at least Christians. The Caerimoniale has different language.

So, the rubric changes from "viri selecti… chosen males" to "qui selecti sunt… those who were chosen".

This unprecedented innovation will be in effect for the Ordinary Form this coming Triduum.
Last week Pope Francis, at the Maundy Thursday Eucharist, washed and kissed the feet of twelve refugees at a migrant centre in Castelnuovo di Porto outside of Rome, Italy. The eight men and four women, included Muslims, Coptic Christians and a Hindu.
While Vatican officials once again scrambled to stretch Pope Francis' circles to fit their understanding of squares, the Pope was clear:
"All of us, together: Muslims, Hindi, Catholics, Copts, Evangelicals. But brothers, children of the same God," he said. "We want to live in peace, integrated."
For Pope Francis "Populus Dei… the People of God" means all people.
If you appreciated this post, do remember to like the liturgy facebook page, use the RSS feed, and sign up for a not-very-often email, …
Similar Posts: