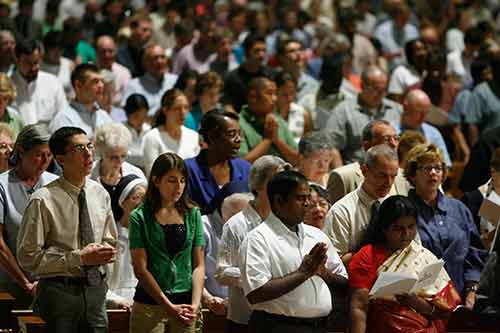 In the most recent edition of the Roman Missal (2002), the ancient "Prayer over the People" at the end of the Eucharist was restored – optional on weekdays of Lent, required on Sundays of Lent.
For most people the challenge is to reduce the wordiness of our liturgies, to increase silence, and to emphasise the symbols and what we do. So I am obviously not advocating increasing the wordiness of our rites. But certainly the ancient Western prayers were pithy and penetrating (the shared collects are a wonderful example), and we could do worse than unclutter some of the liturgy, making space for reclaiming some of these ancient treasures.
I have tried to find a photograph (online) of the priest's (or bishop's) posture at the Prayer over the People. I cannot. In fact, some people will struggle to find the instructions for their use.
In the Missal, the instructions come after "The Order of Mass" and before "Chants for the Eucharistic Prayer"; in the NZ translation (2010) on page 710:
The Deacon or, in his absence, the Priest himself, says the invitation: Bow down for the blessing. Then the Priest, with hands outstretched over the people, says the prayer, with all responding: Amen.
The Prayer over the People today, Thursday in the Fifth Week of Lent is a wonderful example, and worthy of reflection – and praying:
Be gracious to your people, Lord, we pray,
that, as from day to day they reject what does not please you,
they may be filled instead with delight at your commands.
Through Christ our Lord.
This prayer can be found born in the Gelasian Sacramentary and fully grown in the Veronese Sacramentary for the month of July:
Esto, quaesumus, domine, propitius plebi tuae, ut, de die in diem, quae tibi non placent, respuentes, tuorum potius repleantur dilectionibus mandatorum et, mortalis vitae consolationibus gubernati, proficiant ad immortalitatis effectum.
That has now become in the Missal 2002:
Esto, quaesumus, Domine,
propitius plebi tuae,
ut, de die in diem, quae tibi non
placent respuens,
tuorum potius repleatur
delectionibus mandatorum.
If you appreciated this post, do remember to like the liturgy facebook page, use the RSS feed, and signing up for a not-very-often email, …
Similar Posts: