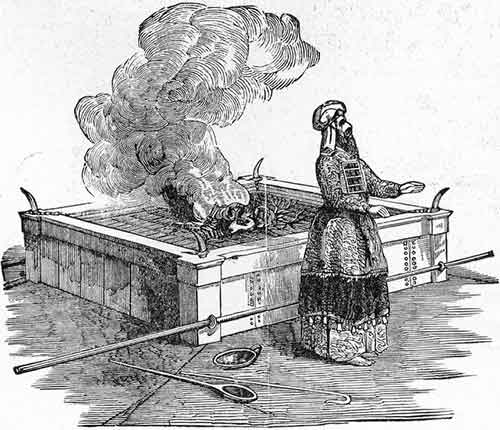 First read:
Accept This Sacrifice
Sacrifice Part 1
Sacrifice Part 2

Let's start a New Testament reflection with θυσία (thusia). This word in the Greek translation of the Hebrew Bible translates 8 different Hebrew words.
We have to be aware that some of the New Testament is written before the destruction of the Jerusalem temple; there are still sacrifices occurring daily in the temple. And some of the other documents in the New Testament are completed when there is no longer a sacrifice – the temple has been destroyed.
Secondly, we have to be aware of the sacrificial context of traditional Greek and Roman sacrifices. Paul, for example, is very clear that Christians must separate themselves from these latter sacrifices (1 Cor. 8:1–11; 10:14–20, 25–31; Rom. 1:18–23). But there is no suggestion in Paul that Jesus' death replaces the temple sacrifices, for example. There is no thought that the temple would be destroyed. In a context soaked in sacrifices, it is inevitable that Paul uses sacrifice metaphors, but we must take care not to read back later sacrificial theorising into the Pauline texts.
I appeal to you therefore, brothers and sisters, by the mercies of God, to present your bodies as a living sacrifice (θυσίαν), holy and acceptable to God, which is your spiritual worship.

Παρακαλῶ οὖν ὑμᾶς ἀδελφοί διὰ τῶν οἰκτιρμῶν τοῦ θεοῦ παραστῆσαιτὰ σώματα ὑμῶν θυσίαν ζῶσαν ἁγίαν εὐάρεστον τῷ θεῷ τὴν λογικὴνλατρείαν ὑμῶν


Romans 12:1
Consider the people of Israel; are not those who eat the sacrifices partners in the altar?

βλέπετε τὸν Ἰσραὴλ κατὰ σάρκα οὐχὶ οἱ ἐσθίοντες τὰς θυσίαςκοινωνοὶ τοῦ θυσιαστηρίου εἰσίν

1 Cor 10:18
and live in love, as Christ loved us and gave himself up for us, a fragrant offering and sacrifice to God.

καὶ περιπατεῖτε ἐν ἀγάπῃ καθὼς καὶ ὁ Χριστὸς ἠγάπησεν ἡμᾶς καὶπαρέδωκεν ἑαυτὸν ὑπὲρ ἡμῶν προσφορὰν καὶ θυσίαν τῷ θεῷ εἰς ὀσμὴνεὐωδίας

Ep 5:2
But even if I am being poured out as a libation over the sacrifice and the offering of your faith, I am glad and rejoice with all of you

ἀλλ᾽ εἰ καὶ σπένδομαι ἐπὶ τῇ θυσίᾳ καὶ λειτουργίᾳ τῆς πίστεως ὑμῶνχαίρω καὶ συγχαίρω πᾶσιν ὑμῖν


Phil 2:17
I have been paid in full and have more than enough; I am fully satisfied, now that I have received from Epaphroditus the gifts you sent, a fragrant offering, a sacrifice acceptable and pleasing to God.

ἀπέχω δὲ πάντα καὶ περισσεύω πεπλήρωμαι δεξάμενος παρὰἘπαφροδίτου τὰ παρ᾽ ὑμῶν ὀσμὴν εὐωδίας θυσίαν δεκτήν εὐάρεστον τῷθεῷ

Phil 4:18
Diverse as the usage is while sacrifices continue in the Jerusalem temple, all occurrences of θυσία (thusia) fit within a God-given means to grow into union with God.
If you appreciated this post, consider liking the liturgy facebook page, using the RSS feed, and/or signing up for a not-very-often email, …
Instagram's @liturgy is the new venture – if you are on Instagram, please follow @liturgy.
Similar Posts: