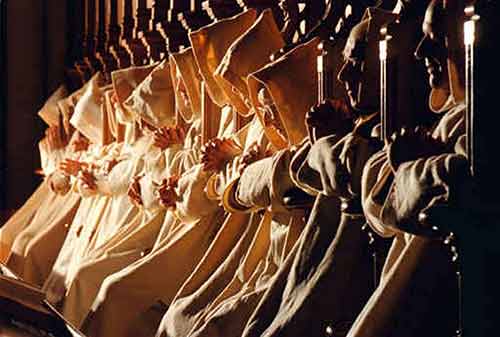 I only realtively recently fell over some research that the whole 8-hours-sleep-in-a-row pattern is relatively recent (see here, here, and here).
The research of Roger Ekirch, professor of History at Virginia Tech, (presented in his book At Day's Close: Night in Times Past
) indicates we used to sleep in two shorter periods with wakefulness of two to three hours between these.
What immediately sprang to my mind was how Carthusians still have nights in this manner, getting up to pray a night office together (as did the Anglican community the Sisters of the Love of God). Often the church, and monastics, continue things from times past (clothing springs to mind: the habits of sisters, just as one example, were the clothing style that ordinary women wore).
Roger Ekirch found
During this waking period people were quite active. They often got up, went to the toilet or smoked tobacco and some even visited neighbours. Most people stayed in bed, read, wrote and often prayed. Countless prayer manuals from the late 15th Century offered special prayers for the hours in between sleeps.
The concept of a prayer vigil, of course, is very ancient. Cistercians and others rise before dawn to pray. Carthusians, as indicated, break their sleep.
It interests me that there have been few to have developed a discipline of staying awake late to pray.
…at midnight there was a shout, "Look! Here is the bridegroom! Come out to meet him." Then all those bridesmaids got up and trimmed their lamps. The foolish said to the wise, "Give us some of your oil, for our lamps are going out." But the wise replied, "No! there will not be enough for you and for us; you had better go to the dealers and buy some for yourselves." And while they went to buy it, the bridegroom came, and those who were ready went with him into the wedding banquet… Keep awake
I read once of a relatively newly-founded religious order that has a discipline of vigil after sunset rather than prior to sunrise. Unfortunately, I cannot recall their name. From memory I think they are founded in Italy. If any of you know – do tell us.
This (why-didn't-we-think-of-this-before) approach to prayer vigil (late rather than early, or as is the topic of this post, in the middle) I think may resonate with many contemporary young people and their lifestyle (as in, sleep) pattern.
Similar Posts: