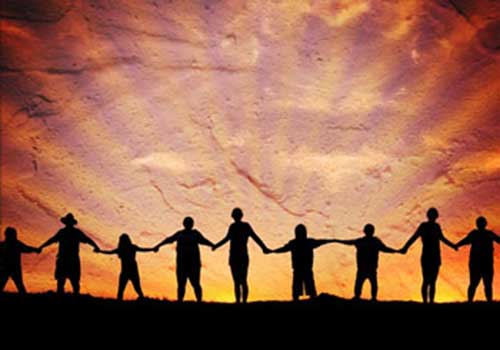 I believe One Holy Catholick and Apostolick Church. Book of Common Prayer from 1549-1928
I believe one church, one Christian community. I've already explained that "I believe in one church" may be better expressed as "I believe one church".
And there are many ways to think about that.
1) Spiritually there is only one church.
That even though appearances are that visibly, structurally, the church, Christians are divided – and sometimes extremely – spiritually there is only one church. And that one church includes not just the church here on earth – but all those in heaven – as the hymn makes clear:
The Church's one foundation
Is Jesus Christ her Lord,
She is His new creation
By water and the Word….

She is from every nation,
Yet one o'er all the earth;
Her charter of salvation,
One Lord, one faith, one birth;
One holy Name she blesses,
Partakes one holy food,
And to one hope she presses,
With every grace endued….

Though with a scornful wonder
Men see her sore oppressed,
By schisms rent asunder,
By heresies distressed:…

Yet she on earth hath union
With God the Three in One,
And mystic sweet communion
With those whose rest is won,
With all her sons and daughters
Who, by the Master's hand
Led through the deathly waters,
Repose in Eden land.
That is the approach undergirds the Anglican teaching in this country, that all are equally welcome around God's table, to receive holy communion.
That is what we mean when we use the word "denomination". We have denominations of NZ currency – 20c piece, 50c, $10note, $20 note and so on. It is all NZ currency – different denominations of the same currency. Anglican, Roman Catholic, Methodist, Presbyterian, Greek Orthodox – they are all different denominations of the same, one church.
2) There's divisions when you look at church as being a detailed list of beliefs and practices.
The more details you put into any requirements – the less people will satisfy those requirements. All people who have dark hair are a relatively big group. All people who have dark hair and wear glasses – that group is smaller. All people who have dark hair and wear glasses and are left handed – smaller still. All people who have dark hair and wear glasses and are left handed and are over six foot tall – that's a smaller group again. So if you divide people into groups according to hair colour (black, white, red, none,…), glasses-wearing, left-right-handedness (left, right, ambi…), and height – you are going to get lots of little groups. That's often what different denominations feel like – dividing up into different beliefs and practices. Smaller and smaller groups with the more details that are specified. But if you understand church as a simple core, something like "following Jesus" – then you don't end up seeing things through the lens of lots of divisions.
3) I believe one church can be taken more literally. I believe the church when it is united.
Until 1054 Christians were pretty much united. So I believe what the church taught in that first 1000 years of Christianity. Seven times all the bishops of the world gathered in what were called ecumenical councils. I believe one church can mean I believe what those first seven ecumenical councils of bishops of the church united before 1054 taught.
4) Finally, I believe in one church can mean I am committed to unity – I will do everything I can to help unity and reconciliation.
You and I believing in one church means we will do something about division, disunity wherever we see it. That can extend beyond division between Christians – you and I commit ourselves to reconciling people wherever we see division, disunion, bitterness, unfriendliness. I believe in – I commit myself to – unity.
*****
This is the twenty-sixth post in a series on the Creed.
The first is Apostles' Creed.
The second is I believe in God.
The third is a source of the Apostles' Creed.
The fourth is I believe in the Father.
The fifth is Handing over the Creed.
The sixth is I believe in Jesus Christ, God's only Son
The seventh is Don't use the creed in worship
They eighth is Truly God truly human
The ninth is Conceived by the Holy Spirit
The tenth is Don't use the creed in worship (part 2)
The eleventh is Born of the Virgin Mary
The twelfth is Don't use the creed in worship (part 3)
The thirteenth is Crucified under Pontius Pilate
The fourteenth is crucified
The fifteenth is Holy Saturday
This sixteenth is He descended to the dead
The seventeenth is on the third day he rose again
The eighteenth is Seated at the right hand of the Father
The nineteenth is Judge the living and the dead
The twentieth is I believe in the Holy Spirit
The twenty-first is But Wait, There's More!
The twenty-second is And the Son
The twenty-third is Filioque
The twenty-fourth is Two hands of God
The twenty-fifth is Don't believe in the Church
Similar Posts: