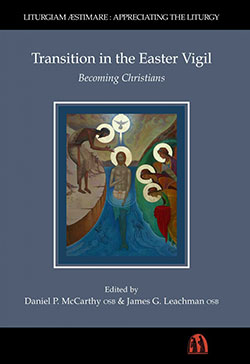 Transition in the Easter Vigil
Becoming Christians
Edited by
Daniel P McCarthy OSB & James G Leachman OSB
389 pages Hardcover.
This is Volume 2 of Liturgiam Aestimare: Appreciating The Liturgy
available from www.theabbeyshop.com
Let me start by saying that I am biased – I find anything that Dom Daniel and Dom James produce a gift to me and to the church. Volume 1 of the series Liturgiam Aestimare: Appreciating The Liturgy, Appreciating the Collect, is a treasure. This larger work is, similarly, a welcome academic contribution to the study of liturgy that will enrich our understanding of what it means to be a Christian.
This book has eight contributors who examine the short prayers in the Easter vigil as a way of tracing the paradigm of human transformation. The catechumens have been preparing for this night when they will receive the sacraments of initiation: baptism and eucharist.
The book begins with a history of the Easter Vigil. Then there are reflections on the Liturgy of Light, the prayers of the Vigil, the prayers at baptism, and the specific prayers around communion for the Vigil.
A lot of the approach of the book turns on the understanding that we are created to share in the divine life:
Thus he has given us, through these things, his precious and very great promises, so that through them you may escape from the corruption that is in the world because of lust, and may become participants in the divine nature. 2 Peter 1:4
We have sacramental participation and moral participation in this life. The former is God's gift, the latter is our growing into Christ's likeness in our daily life and conduct.
The Easter Vigil is the heart of the Church Year. Here is a book that I hope will become standard in the training, study, and ongoing formation of clergy. It can also undergird those leading the catechumenal process such as RCIA.
You can get a further idea of the book, by reading the Editors' Preface here. I had no trouble ordering it from The Abbey Shop. Other readers may prefer to order it from
St. Benedict's Abbey
1020 North Second Street
Atchison, Kansas 66002
1 (913) 360-7908
Unfortunately, I do not see it available at Amazon yet.
Similar Posts: