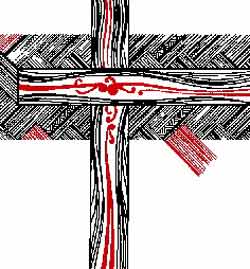 Warning: If the worship life of Anglicanism (and, relatedly, our doctrine) in Aotearoa New Zealand interests you, read on. If it does not, go for a walk, talk to a friend, pray, have a coffee…
[Updated 17 August 2014: I've just noticed in the schedule of motions for our diocesan synod that there is no reference to "Bill 4" – there, it is referred to as "Statute 711". I have updated below to reflect this. It has also had some of the material from GSTHW stripped away. Furthermore, there is no mention in the GSTHW minutes of anything about Bill 4 until you get to the fourth day of the meeting of GSTHW when it, with 8 other Bills, is confirmed by a motion from the chair].
Recently, General Synod Te Hinota Whanui (GSTHW) passed Bill 4/Statute 711 to alter our Constitution. This needs now to be debated and voted on in diocesan synods and hui amorangi; and if it passes there, it goes back to a newly elected GSTHW for another vote there; and if it passes that, after a year it becomes law. Usually, once GSTWH passes something the first time, it has a generally smooth ride until it becomes law and our Constitution is changed.
But I am questioning: what would happen if we didn't pass this particular Bill? What would we loose? What would we gain?
Let's just push "pause" a moment and not rush forward. Because I think we may have a lot to gain by not passing it, and nothing to loose…
What is Bill 4/Statute 711 about? What will it achieve?
Our church has formularies (agreed belief and practice). Services which are formularies are authorised for use – and that is recognised by our parliament in the Church of England Empowering Act 1928. Our property and income etc. belongs to the community that uses the authorised services and holds to the beliefs and practices of our formularies.
Bill 4 (some may be surprised) acknowledges that much of what we have been doing is "inconsistent with the 1928 Act and lacks fundamental authorisation in the first place." [This is in the Notes to support the Bill, and these notes are noticeably missing from the Statute seeking our diocesan assent].
What Bill 4/Statute 711 seeks to do is legally expand "authorised services" from the formularies to allow bishops, for example, to authorise services beyond the current flexibility. Suspiciously? uniquely, Bill 4/Statute 711 if passed, and the changes made to our Constitution, does not produce what the Bill's intended! Another Bill will have to follow, its wording not yet specified, which will, only then, enable the broadening of "authorised services".
Pause: what if we don't vote to assent to Bill 4/Statute 711 towards its confirmation? What happens then? What are the consequences? My suspicion: we have nothing to loose and may have a lot to gain.
Correct me if I am wrong, but I do not think there is any other Anglican province which allows the sort of flexibility we have in our current authorised services, our formularies. Just some examples: for the Eucharist the only words that our church has as fixed and required are those of the Eucharistic Prayer, the Great Thanksgiving. And for those words we can use any Eucharistic Prayer authorised in any Anglican church anywhere in the Anglican Communion. And that includes any of the framework Eucharistic Prayers (for example the two in TEC's BCP 1979, etc). I would be surprised if anyone can tell me how many Eucharistic Prayers that actually is! And, remember, that's all that is required – everything else in your Eucharistic liturgy you can draw from wherever you like – or just make it up.
For a non-eucharistic service we similarly have the omni-flexible A Form for Ordering A Service of the Word. What can not fit into this particular formulary?!
With currently our agreed formularies being so broad and incredibly flexible, surely it stretches our integrity to refer to our worship as "common prayer"? What is actually not flexible enough that Bill 4/Statute 711 is required? If you are in favour of Bill 4/Statute 711, the onus is on you to tell us why our agreements need to be widened even further than they currently are – with our current formularies so wide, other members of the Anglican Communion must look on our agreements with disbelief!
Some might suggest that we need Bill 4/Statute 711 in order to give Motion 30 (to bless committed same-sex couples) legal traction. I do not think so. Bill 4 [in the Notes to Support the Bill, missing from Statute 711 as we receive it for diocesan assent] insists that it will cover services
(a) Based on 'A Form for Ordering a Service of the Word' and/or 'An Alternative Form for Ordering The Eucharist' [being our existing framework for liturgical development]
(b) Not inconsistent with the teachings of the Formularies…
(d) Will generally be suitable for occasional and non-controversial services in the life of the Church
If we cannot bless committed same-sex couples within the current formularies, we will not be able to do so should Bill 4/Statute 711 (and its required-to-make-it-work future Bill) pass.
Can you tell me anything that will be gained by passing Bill 4? If not – don't pass it; speak and vote against it at your diocesan synod or hui amorangi; and advocate with others not to let it pass.
What do you think?
Similar Posts: