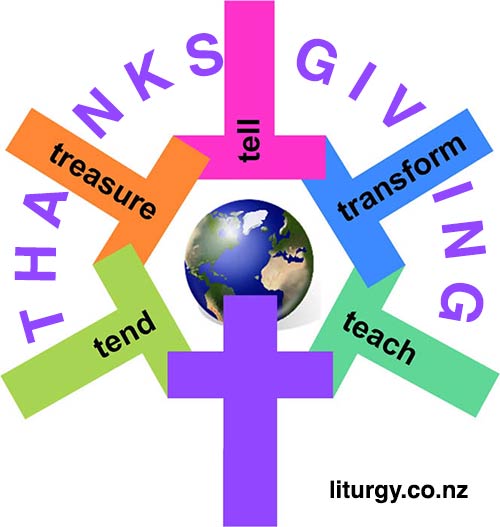 You are on the back foot if people cannot remember the name of your organisation. You have even bigger problems when even members of your organisation, including significant leadership,find the name of your organisation difficult to remember. This is compounded if the membership finds the expression of its mission difficult to recall. It gets even worse if your organisation, in its mission statement, omits something that is at the heart of what you (are meant to) do.
Jesus has a very memorable mission statement: love God (with all your heart, soul, mind, and strength); love your neighbour as yourself. If Jesus were alive today 😉 I'm sure he would add the environment/nature/creation.
Yes, people both outside of and part of the Anglican Church in Aotearoa, New Zealand and Polynesia get its name wrong. Good luck finding someone who can recite the mission statement of the church!
The meeting of General Synod Te Hinota Whanui 2014 added wording to our Standing Resolution (Sundry/Other) 1, where the Anglican "5 Marks of Mission" have become "Principles of Mission". The words added to the fourth Mark of Mission are "to challenge violence of every kind and to pursue peace and reconciliation".
The best mnemonic for the Five Marks that I have seen is: Tell – Teach – Tend – Transform – Treasure.
Our church's constitution has the five reduced to four. And now our Standing Resolution differs significantly from our church Constitution!
But imagine a school that doesn't put education into its mission, or a shop that doesn't put selling, or a hospital that omits improving health… Our church does not have worship as part of this statement of mission!!!
Where is Jesus' loving-God-for-God's-sake part of the mission of being church?!
A mindset that reduces the church's mission to doing stuff outside of worship turns worship into a means. Worship then becomes a means to evangelise. Worship then becomes entertainment. All the things we so often discuss here.
Worship must be central to our mission. It was central to Jesus. It was first up in his mission statement.
I asked for a 'worship' word starting with "t" to add to the mnemonic. I acknowledge the one I thought best was "Thanksgiving": Thanksgiving – Tell – Teach – Tend – Transform – Treasure.
Well done those who have not felt constrained by the inadequate five marks of mission and have come up with their own. The Diocese of St Andrews, Dunkeld and Dunblane, an Anglican diocese of the Scottish Episcopal Church have nine marks of mission. And guess what their first mark of mission is? Worship. "We worship in ways that inspire and renew". The Church of England diocese of Leicester has its own nine marks under the understanding "Shaped by God". The worship mark is, "worship in a way that renews and inspires, echoing the praise of heaven". And there is also, "being rooted in prayer, because prayer is part of our loving response to the needs of the world".
Here's the Bishop of Leicester, Tim Stevens, on this mission agenda:
Similar Posts: