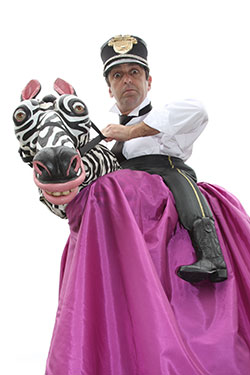 We had a wonderful Buskers' Festival here just a while ago.
I have recently been encouraging people to rethink liturgy (worship) and leading liturgy (worship). Busking, I have spoken about, presents some helpful models to think this through in a lateral way.
Here's some points I have previously made:
1) A crowd gathers a crowd
2) Encourage the crowd to be close together
3) Buskers gather individuals into a group and send them away as individuals transformed by the experience
4) Actions can be far more significant than a lot of words
5) Setting an atmosphere of anticipation
6) Involving the crowd
7) The energy of the crowd encourages the energy of the busker and hence the energy of the total experience
8) Adapt a set "script" to the particular context [if the eight becomes a smiley face on your computer – just giggle!]
9) Pacing; time [less than an hour]
10) Variety that appeals to everyone present
11) It is clear who is leading – by costume, movement,…
What do you think? What other ideas do you have?
ps. I love the concept of a flashmob. Here's a seriously cool one:
If you appreciated this post, there are different ways to keep in touch with the community around this website: like the facebook page, follow twitter, use the RSS feed,…
Similar Posts: