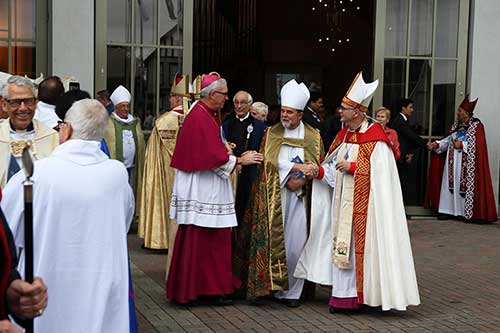 I had a fascinating discussion recently with someone I deeply respect who kept pressing me to deeper clarification about what actually happens at baptism. What difference does it actually make?
I have this conversation in mind with the news of the consecration of Auckland's Holy Trinity Anglican Cathedral.
What actually happens when a church building is consecrated? What difference does it actually make?
Let me be absolutely clear for the skim readers: in this post, I am in no way suggesting that we stop consecrating buildings, just as my friend was in no way suggesting that we stop baptising. Congratulations to everyone involved in the Auckland occasion. By all accounts, it was a wonderful occasion.
Secondly, for the skim readers: questions in this post are not rhetorical.
Is there any mention of consecration of buildings in our NZ Anglican canons?
My own diocese does include rules on CONSECRATION OF CHURCHES
(a) No Church will be consecrated while any debt on the building remains unpaid.
(b) No Church will be consecrated unless it is a permanent building.
(c) A clear title to the land must be held by The Church Property Trustees.
(d) Churches that do not fulfil the above conditions may be opened with a service of Dedication.
(e) A petition for the Consecration, signed by the Vicar and Church Officers and, if desired, by other Church members, will re required.
(f) The form of petition will be drawn up by the Diocesan Manager, on application accompanied by such statements relating to the above particulars as the Bishop may require.
But, at a quick look at some other NZ Anglican diocesan websites, I cannot see rules for consecration there. Let us know if you know of them.
Setting aside that in my quote above consecration appears to be limited to parish buildings (ie. places with a vicar), there is a distinction in the rules between "dedication" and "consecration". What is the actual difference between "dedication" and "consecration"?
The cathedral in Christchurch has been dedicated, not consecrated. What is the actual difference? [The cathedral in Christchurch is a permanent building and, as far as I know, paid off. Yes – it doesn't have a vicar…]
I don't think there is an agreed (Anglican) rite of consecration, or of dedication. So there is nothing "formal" that we can examine.
"Consecration" is mentioned in our formularies (formal teachings and practices of our Church) – the Book of Common Prayer (1662) calls the prayer over the bread and wine in Holy Communion "The Consecration". And in the Ordinal that goes with that, while deacons and priests are ordained, bishops are "Ordained and Consecrated".
In the New Zealand Prayer Book He Karakia Mihinare o Aotearoa, the service for all three (deacons, priests, bishops) are all called ordinations. And all three are ordained by a "prayer of consecration".
As far as I know, even though we now talk about bishops being ordained (rather than consecrated), I think bishops still produce documents signed "in the …. year of my consecration". [If they are translated from one diocese to another, do they date it from when they were ordained a bishop, or from when they were translated to be bishop of the place where they now oversee?]
There is a (Anglican) tradition that the building to be consecrated needs to be complete. Am I correct about that tradition? Is it in any documentation? It is not mentioned in the quote above, and clearly not integral to the Christian tradition of consecration of buildings as evidenced by the consecration of the Sagrada Familia (that whole post is worth a read).
To be continued…
photos source Anglican Taonga
If you appreciated this post, do remember to like the liturgy facebook page, use the RSS feed, and sign up for a not-very-often email, …
Similar Posts: