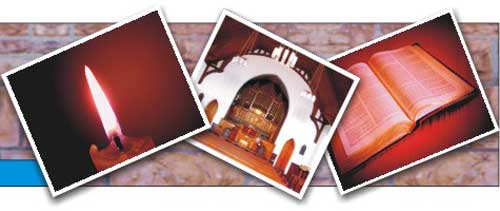 My good e-friend John van de Laar has recently added Daily Worship to his wonderful website Sacredise.
His reflections are based around the reading system in the 2005 resource from the Consultation on Common Texts (CCT). That organisation, in 1992, produced the Revised Common Lectionary (RCL), a revision of the 1983 (Common Lectionary) which was a reworking of the Roman Catholic 3 year lectionary resulting from Vatican II. The RCL/3yrRClectionary is, IMO, one of the great movements of the Holy Spirit in our time. It means that the majority of Christians are, most Sundays and major feasts, reading the same set of readings. I am a strong advocate of this three year cycle of Sunday readings.
What John is using for his Daily Worship is a collection of readings that CCT produced in 2005 that complement the Sunday and festival readings: Thursday through Saturday readings help prepare the reader for the Sunday ahead; Monday through Wednesday readings help the reader reflect and digest on what they heard in worship.
Download RCL Daily Readings (includes RCL Sunday and festival readings)

Year A PDF format    RTF format

Year B PDF format    RTF format

Year C PDF format    RTF format

Download An Overview of Revised Common Lectionary Daily Readings in PDF format
Although the Sunday readings are so widespread, I am not aware of a large number of people using this particular daily system of readings, but I can recommend John's work and reflections unconditionally. If you do not have a daily discipline, and you are looking for one, check this out. [One niggle, common for online devotions: it is 7am Wednesday here in NZ. The resource is still on Tuesday. By now a lot of Kiwis will have completed their devotions and be preparing for the rest of the day. People forget that there are lots of people Eastwards of them, between them and the Date Line. I think John updates at 8am NZ time – by which time I am at work. I will speak to John about this again. You can have the complete week's devotions emailed to you ahead of time].
*****
Previously I have also posted about a way to read the whole Bible in a three year period. (I'm aware there's a pause currently until Lent with the provision of some of the online resources that go with this).
I also want to remind people that the daily readings most used by Christians would be the daily Eucharistic readings which again originate with a Vatican II reform. This covers most of the Bible in two years, with the Gospels every year. Many will be aware of my preference for the NRSV – you can find that version of the daily Eucharistic readings online here. There is an easy-to-use calendar view where you simply click on the date and then use the readings in the right-hand column. Eg. for today, Wednesday 8 Feb:
This Liturgy site has an online Chapel with a variety of ways of organising a discipline of daily devotion – there is bound to be something there that suits you.
You can add other suggestions and responses and ways that help you in the comments.
Similar Posts: