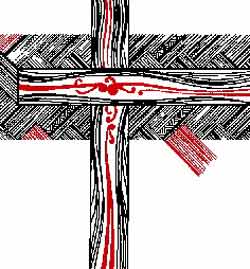 In the next few weeks some synods, in the Anglican Church in Aotearoa, New Zealand and Polynesia, are reconsidering the request from General Synod Te Hinota Whanui to change our Church's Constitution. The majority need to agree to the change for it to proceed.
In the considerations about this last year, no diocesan synod voted in favour of the change. Some people voted strongly against it. I wrote against making the change (eg. here and here).
I emphasise that people continue to vote, "No!"
[Updated (1) with reference to Tikanga Maori, (2) with a link to another blogger reinforcing the call to vote No – see below]
Those considering voting in favour of the change should be very, very clear about what they are doing, and 100% in agreement, before you vote to change the Anglican Church's Constitution.
Particularly because the change is around the heart of Anglicanism – authorised services (and, hence, also our doctrine, which in Anglicanism is intimately tied to these).
We have a very careful process for changing authorised services (and our formularies). The process is embodied in an Act of Parliament and that is mirrored in our Constitution. Our church now acknowledges that some of the things our church has done have not followed this process. Specifically, Title G Canon VI, Title G Canon XIV, and Standing Resolution SRL3 are not licit.
Now this Statute 711, that diocesan synods are being asked to assent to, seeks to enlarge the understanding of "authorised". [Read it here if you do not have it in front of you].
The first alarm bell that goes off loudly is upon reading the third "Whereas…" Clause:
… subsequent to [this Statute] being confirmed [there will be]… consequential amendments to Title G Canon XIV…
There is no wording provided that gives any idea what this revised wording of Title G Canon XIV might possibly look like!
The Statute is a disorganised shambles. The "Whereas clauses", themselves, list poor organisation at General Synod, and misunderstanding by General Synod of the limitations of its own Standing Committee! Not forgetting that this Statute is being presented because General Synod now acknowledges it has been misunderstanding our own constitution! All that was followed by a rushing of this Statute through General Synod in 2014 at such a pace that many members had no idea what they were voting for, and certainly cannot explain what they have passed.
The inadequate explanation ("Notes to support the Bill"), accompanying the Statute, has been followed by a second attempted explanation to get people to vote for it, and still neither explanation even mentions Title G Canon VI, a central feature of this Statute's befuddlement.
Vote "No!" because people have been asking the wrong question. Upon realising that two Canons and a Standing Resolution have no legal standing, the question should not have been, "How can we make them licit?" The first question should have been: "Do we still need them?" They were possibly useful once. Now, I argue, we do not need them at all. The best response is for General Synod to repeal Title G Canon VI, Title G Canon XIV, and Standing Resolution SRL3.
Since the passing of the two illicit Canons and the unwarranted Standing Resolution, the formularies of our church, our "authorised services", have become more permissive than any others in the Anglican Communion. No other province in the Anglican Communion has the breadth of flexibility of A Form for Ordering the Eucharist (NZPrayer Book pages 511-514), An Alternative Form for Ordering the Eucharist, and A Form for Ordering a Service of the Word. All three are formularies, authorised services of our church. Can anyone who is in favour of this Statute describe a service that is not currently legal that will, after this uncertain, convoluted process be legal? Please, if you are in favour of this Statute, answer that question as a comment below.
The question should not have been: "How, now that we have acknowledged that Title G Canon VI, Title G Canon XIV, and Standing Resolution SRL3 have no legal standing, can we produce a confused and confusing labyrinthine process to make them licit?" The position should have been: "Now that we have acknowledged that Title G Canon VI, Title G Canon XIV, and Standing Resolution SRL3 have no legal standing; and that we realise that we have more than enough flexibility since those were devised, and we realise that they are no longer needed – let's repeal those three." The Statute we are being asked to assent to, if passed, does not achieve what it purports to aim to do (as it needs to be followed by further, undefined amendment of a Canon). [Is this the first statute that doesn't achieve its goal upon being passed?]
My solution is simple, clean, straight-forward, effective, and (unlike the current Statute) logical: Vote No to assenting to Statute 711, and then repeal Title G Canon VI, Title G Canon XIV, and Standing Resolution SRL3.
*****
Update (1) re Tikanga Maori: Private correspondence since putting up this post has indicated Tikanga Maori has assented to Statute 711 at their recent meeting of Te Runanagnui on the understanding that this will enable them to produce culturally appropriate rites and fill in where the NZPrayer Book He Karakia Mihinare o Aotearo lacks Te Reo Maori.
With the greatest of respect, I think this is mistaken. For non-sacramental actions, I suggest that the formulary A Form for Ordering a Service of the Word already enables the leading of services in Te Reo. I think that it is high time that a full Te Reo version of Baptism and of the Ordinal is provided. These, I suggest, should be acceptable to and accepted by the whole church, not merely in one Tikanga. I am VERY wary of a tikanga producing a Baptism rite or Ordinal which is not accepted by the whole church.
Of course the entire province would accept a good Tikanga Maori liturgy and that would be great for the province to do so. A step forward. The timeframe for authorising a rite in Te Reo, following the current legal process to experimental stage, is not significant – about a year.
Statute 711 is a step backwards or worse, following this logic.
I urge Tikanga Maori members of Te Hinota Whanui General Synod to think carefully before supporting this Statute further.
*****
There are other Statutes that General Synod Te Hinota Whanui is seeking assent to. You will see there are issues with those also, so I suggest voting No to them all and sending all back for more careful work. Changing the Constitution, however, is in a different league to whether to term a Sunday "in" or "of" Lent!
*****
There has been (rightly) quite a bit of reflection on this important topic. You can read further, for example, here:
Authorised Services
What Say We Don't Pass Statute 711?
Update 2: The Ven. Dr. Peter Carrell has also now blogged about this, also reasoning carefully, and strongly urging people to vote against Statute 711.
*****
Update 3: No checks and balances
At present, as has been made clear, authorised services include formularies and experimental uses as authorised by the 1928 Act. Let us be clear: authorised services, at present, involve the whole church at both provincial and diocesan decision-making levels. For a service to be authorised this needs the agreement of General Synod and a majority of diocesan synods.
Statute 711 changes these checks and balances completely. It wants to add "Authorised Services includes …services authorised under Title G Canon XIV." Now, Title G Canon XIV can be changed by any single meeting of any future General Synod. The checks and balances are gone. There is no say by diocesan synods. There is no opportunity, as presently, for a "cooling-down period" of a year in which anyone can raise an objection.
It is hard to believe such a radical, total overhaul of our agreed understanding of authorised services is being attempted to be squeezed through without significant explanation, discussion, debate, and consultation.
*****
If you appreciated this post, consider liking the liturgy facebook page, and/or signing up for a not-very-often email, …
Similar Posts: