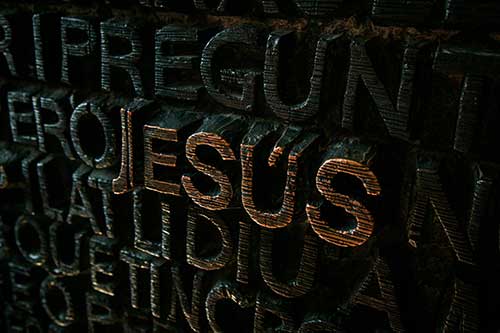 Read – reflect – respond (in prayer, silence, possibly a comment)
Lectio Divina – sacred reading
Do you have any reflection on today's reading and collect?
O Lord, you relieve our necessity out of the abundance of your great riches: Grant that we may accept with joy the salvation you bestow, and manifest it to all the world by the quality of our lives; through Jesus Christ our Lord, who lives and reigns with you and the Holy Spirit, one God, now and for ever. Amen.

The Jews* took up stones again to stone him. Jesus replied, 'I have shown you many good works from the Father. For which of these are you going to stone me?' The Jews answered, 'It is not for a good work that we are going to stone you, but for blasphemy, because you, though only a human being, are making yourself God.' Jesus answered, 'Is it not written in your law, "I said, you are gods"? If those to whom the word of God came were called "gods"—and the scripture cannot be annulled— can you say that the one whom the Father has sanctified and sent into the world is blaspheming because I said, "I am God's Son"? If I am not doing the works of my Father, then do not believe me. But if I do them, even though you do not believe me, believe the works, so that you may know and understand that the Father is in me and I am in the Father.' Then they tried to arrest him again, but he escaped from their hands.
He went away again across the Jordan to the place where John had been baptizing earlier, and he remained there. Many came to him, and they were saying, 'John performed no sign, but everything that John said about this man was true.' And many believed in him there. (John 10:31–42)
*Watch the use of the word "Jews", people!!!
If you appreciated this post, consider liking the liturgy facebook page, using the RSS feed, and/or signing up for a not-very-often email, …
Instagram's @liturgy is the new venture – if you are on Instagram, please follow @liturgy.
Similar Posts: