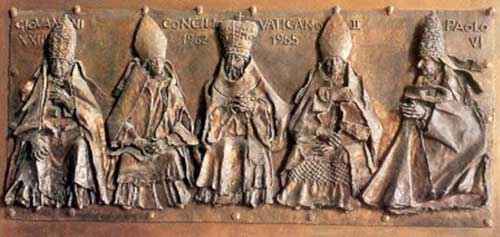 On 4 December 1963, Pope Paul VI promulgated Sacrosanctum Concilium, the Constitution on the Sacred Liturgy, one of the constitutions of the Second Vatican Council.
This year marks the 50th anniversary of that watershed event.
Central to that constitution is
Mother Church earnestly desires that all the faithful should be led to that fully conscious and active participation in liturgical celebrations which is demanded by the very nature of the liturgy. Such participation by the Christian people as a chosen race, a royal priesthood, a holy nation, a redeemed people (1 Peter 2:9; cf. 2:4–5), is their right and duty by reason of their baptism. Sacrosanctum Concilium 14
Jesse, a regular participant in the community around this site, wrote a comment that may help us to stop and think again what these words might mean for us:
Just yesterday I had to take a student gently to task for suggesting that the 16th- and 17th-century Anglican liturgies "predate the introduction of 'active lay participation'". That statement would likely rile our Reformers! In many ways, those rites are the most demanding of active lay participation: you're warned a week in advance to examine your conscience and make peace with anyone whom you have wronged; you give notice of your intent to communicate a day in advance; and the liturgy cannot take place at all without a quorum of laity. The laity are involved through changes of posture, through verbal responses, through singing, through the offering of their monetary substance. The journey through the liturgy involves a demanding commitment of concentration as the communicants all together embark on on an interior pilgrimage of ascent in heart and mind to the heavenly Holy of Holies. And in the 1552-1662 liturgies, the "anamnesis" commanded by Our Lord is deliberately linked to each communicant's reception of the sacrament ("Take and eat this in remembrance…").

That's what I call "active participation"!
If you appreciated this post, there are different ways to keep in touch with the community around this website: like the facebook page, follow twitter, use the RSS feed,…
Similar Posts: