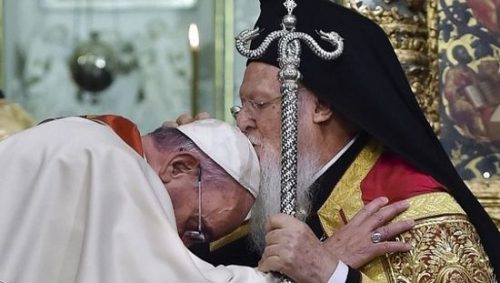 Pope Francis has been making waves. The Orthodox are trying to catch up with our new context. And some people are trying to turn back the clock.
Looking East or West?
Cardinal Robert Sarah, Prefect of the Congregation for Divine Worship and the Discipline of the Sacraments has asked that priests begin presiding at the Eucharist ad orientem, that is, facing east rather than towards the congregation:
It is very important that we return as soon as possible to a common orientation, of priests and the faithful turned together in the same direction – eastwards or at least towards the apse – to the Lord who comes.

I ask you to implement this practice wherever possible…. have confidence that this is something good for the Church, something good for our people.

Your own pastoral judgement will determine how and when this is possible, but perhaps beginning this on the first Sunday of Advent this year, when we attend 'the Lord who will come' and 'who will not delay'.
It will be fascinating to see reaction to this (one here). Let's watch what Pope Francis does at his daily Mass in St Martha.
I have urged the abandonment of the term versus populum ("facing the people"), and coined in circuitu altaris (around the altar in circuitu mensae). Certainly, in inherited worship spaces, "versus populum" is about as good as is possible to attempt to give an in circuitu altaris feel. But in new spaces, the sense of gathering around God's table is architecturally possible.
True, God is transcendent – "out there" – and God is in our midst and with us. Emphasising the latter (especially in the Advent/Christmas/Incarnation part of our year) is needed more than ever. Finding God in our midst and with us is no denial of infinite sacredness – but I hope the opposite.
Looking East
The Holy and Great Council of the Orthodox Church met and unanimously passed a number of significant documents:
With four churches absenting themselves from this meeting (and that being reminiscent of Anglican meetings – and Anglicans have a similar structure to Orthodox) the declaration is that this is all binding on all Orthodox churches. We will see how that goes down…
As with Vatican II, God may use this to go beyond, what to many must seem, quite esoteric, in-house issues. Just look at the start of The Mission of the Orthodox Church in Today's World:
The contribution of the Orthodox Church in realizing peace, justice, freedom, fraternity and love between peoples, and in the removal of racial and other discriminations.
Looking West
Pope Francis has (again) been making waves with comments:
"a large majority of sacramental marriages are null." (even Vatican officials struggled so much with this that they changed his words to "A part of our sacramental marriages are null".
Furthermore, and that some cohabitating couples are in a "real marriage," receiving the grace of the Sacrament:
"I've seen a lot of fidelity in these cohabitations, and I am sure that this is a real marriage, they have the grace of a real marriage because of their fidelity,"
Then there was his point about gays:
"I believe that the church not only should apologize to the person who is gay whom it has offended," he added, "but has to apologize to the poor, to exploited women, to children exploited for labor; it has to ask forgiveness for having blessed many weapons."
And thirdly, as we prepare for the 500th anniversary of the Reformation, Sandro Magister writes of the way, La Civiltà Cattolica, the quasi-official interpreter of Pope Francis, interprets his words on intercommunion:
"Pope Francis is now also encouraging Protestants and Catholics to receive communion together at their respective Masses."
If you appreciated this post, do remember to like the liturgy facebook page, use the RSS feed, and sign up for a not-very-often email, …
Similar Posts: