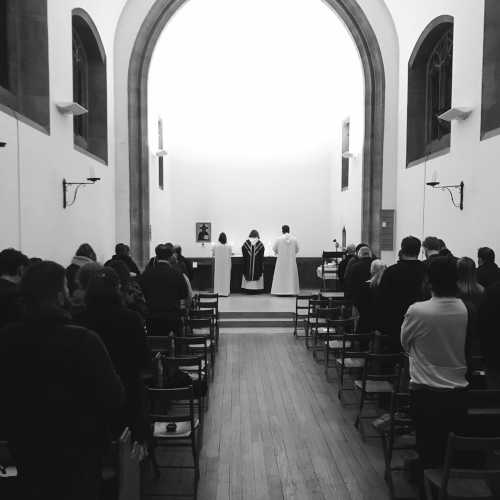 I recently had a penny-drop moment about the debate (sometimes heated) about the priest facing East or West when at the altar. East is argued to be all facing in the same direction. West is seen as priest and congregation facing each other. East is denigrated as the priest having [his] "back to the congregation". West is denigrated as the congregation focusing on the priest.
I have tried to develop another way of looking at presiding at the altar: rather than the East-facing/West-facing dichotomy, I advocate for an architecture and renewed understanding of us all gathered around God's altar table. Hence my coining in circuitu altaris (around the altar; in circuitu mensae around the table).
But, to the penny-drop: I wonder if the bigger issue is not East or West facing, but the distance that the congregation is from the altar. Fr Richard Peers was part of my reflecting when he commented about presiding "eastward with the congregation gathered closely at the altar and a simplified rite. The feedback was very positive on that and it was a good experience I think." On the other hand, I often see the priest alone W-A-Y, w-a-y up there behind some sort of sideboard altar: priest; sideboard; long, empty space; congregation.
I wrote about this here:
I visit a Sunday Anglican Church service in a building which was built for a vigorous parish with a choir and originally with the long, rectangular sideboard-like altar against the far, east wall. During the Eucharist, the priest would have been at that far end with young servers, then a full choir, facing each other in the choir stalls, and then a good, mixed congregation. Some time, over half a century ago, the vicar taught a series on liturgical reform and the altar was pulled out a little from the east wall, enough for the priest to get behind it and face the congregation.

But the choir is gone now. And so are the (young) servers. At the start of the service, the priest leads from half way down this building, with the empty choir stalls behind the priest. But when it comes to Eucharistic Prayer (The Great Thanksgiving), the priest moves through the half of the church building that is empty, between the empty choir stalls, through altar rails, and then this priest stands, way in the distance, alone behind the sideboard – this altar that was pulled out from the wall in the 60s, but nothing else has been done in the intervening years. The priest stands at that distance as if behind a large kitchen bench, like a sole bartender in the distance.
What do you think: is distance maybe as much or possibly even more of a discussion to be had than which way the priest faces? And somewhere in this discussion is a sense of transcendence and a sense of immanence.
Similar Posts: