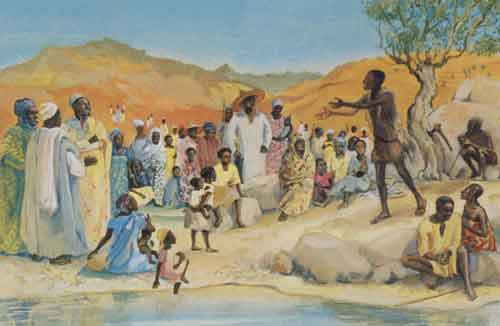 4John the baptizer appeared in the wilderness, proclaiming a baptism of repentance for the forgiveness of sins. 5And people from the whole Judean countryside and all the people of Jerusalem were going out to him, and were baptized by him in the river Jordan, confessing their sins. 6Now John was clothed with camel's hair, with a leather belt around his waist, and he ate locusts and wild honey. 7He proclaimed, 'The one who is more powerful than I is coming after me; I am not worthy to stoop down and untie the thong of his sandals. 8I have baptized you with water; but he will baptize you with the Holy Spirit.'

Mark 1:4-8
1:4 ἐγένετο Ἰωάννης βαπτίζων ἐν τῇ ἐρήμῳ καὶ κηρύσσων βάπτισμα μετανοίας εἰς ἄφεσιν ἁμαρτιῶν
1:5 καὶ ἐξεπορεύετο πρὸς αὐτὸν πᾶσα ἡ Ἰουδαία χώρα καὶ οἱ Ἱεροσολυμῖται καὶ ἐβαπτίζοντο πάντες ἐν τῷ Ἰορδάνῃ ποταμῷ ὑπ᾽ αὐτοῦ ἐξομολογούμενοι τὰς ἁμαρτίας αὐτῶν
1:6 ἦν δὲ Ἰωάννης ἐνδεδυμένος τρίχας καμήλου καὶ ζώνην δερματίνην περὶ τὴν ὀσφὺν αὐτοῦ καὶ ἐσθίων ἀκρίδας καὶ μέλι ἄγριον
1:7 καὶ ἐκήρυσσεν λέγων, Ἔρχεται ὁ ἰσχυρότερός μου ὀπίσω μου οὗ οὐκ εἰμὶ ἱκανὸς κύψας λῦσαι τὸν ἱμάντα τῶν ὑποδημάτων αὐτοῦ
1:8 ἐγὼ μὲν ἐβάπτισα ὑμᾶς ἐν ὕδατι αὐτὸς δὲ βαπτίσει ὑμᾶς ἐν πνεύματι ἁγίῳ
The wilderness has a special significance in biblical narratives. It is beyond human control and the control of the establishment. People are traveling from a variety of locations and (hence) a variety of backgrounds. They appear to be traveling for safety in groups. Judea and Jerusalem are emphasised in the Greek – this is the place where the story leads.
John calls for personal and social repentance.
βάπτισμα Baptism – to dip.
There is Jewish ritual washing, purification rituals at Qumran, and proselyte baptism for converts to Judaism.
ἄφεσιν – forgiveness; remission – remission of a debt; this is obviously a very significant concept in a peasant, hand-to-mouth life.
What John is wearing reminds of Elijah (2 Kings 1:8) – John as Elijah repeats throughout Mark. Elijah (and Elisha) and their followers led a popular rebellion against the house of Ahab. This is political. Also remember
Lo, I will send you the prophet Elijah before the great and terrible day of the Lord comes.

Mal 4:5
1:7 unworthiness is important concept in this honour-shame society.
Loosening the sandals appears even in John 1:27!
NB also – sandals in Mark 6:9
Jesus as the stronger one is an important theme in Mark.
1:8 ἐν πνεύματι ἁγίῳ – with/in holy wind
This verse is necessary in order to not misinterpret what happens next!
As this year the Sunday Gospel reading focus is on St Mark's Gospel, I thought I'd now start some of my personal study and Lectio Divina with that Gospel.
This is the third post in a series – you can begin here:
Mark in Slow Motion 1
Mark in Slow Motion 2
Similar Posts: