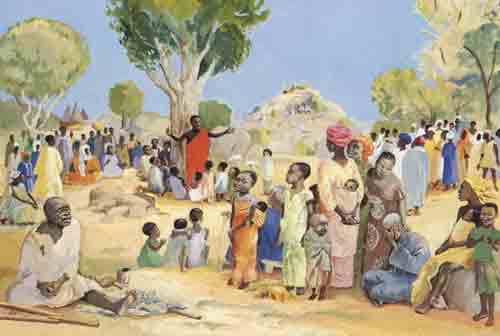 Now after John was arrested, Jesus came to Galilee, proclaiming the good news of God, and saying, 'The time is fulfilled, and the kingdom of God has come near; repent, and believe in the good news.'

Mark 1:14-15
Μετὰ δὲ τὸ παραδοθῆναι τὸν Ἰωάννην ἦλθεν ὁ Ἰησοῦς εἰς τὴν Γαλιλαίαν κηρύσσων τὸ εὐαγγέλιον τῆς βασιλείας τοῦ θεοῦ
καὶ λέγων ὅτι Πεπλήρωται ὁ καιρὸς καὶ ἤγγικεν ἡ βασιλεία τοῦ θεοῦ· μετανοεῖτε καὶ πιστεύετε ἐν τῷ εὐαγγελίῳ

δὲ – there have been a lot of sentences by Mark with καὶ ("and"); this sentence has δὲ ("but")
John the Baptizer, here, is clearly Jesus' mentor. In baptism, Jesus joined John's group. Now, with John arrested, Jesus takes up John's mantel. Jesus will soon (Mark 3:6) also become a target by the authorities.
παραδοθῆναι – "handed over" (translated by NRSV as "was arrested". cf. Isaiah 52:13-53:12 (the Fourth Servant Song). NB 53:6 (παρέδωκεν)
πάντες ὡς πρόβατα ἐπλανήθημεν ἄνθρωπος τῇ ὁδῷ αὐτοῦ ἐπλανήθη καὶ κύριος παρέδωκεν αὐτὸν ταῗς ἁμαρτίαις ἡμῶν
& 53:12 (παρεδόθη)
διὰ τοῦτο αὐτὸς κληρονομήσει πολλοὺς καὶ τῶν ἰσχυρῶν μεριεῗ σκῦλα ἀνθ᾽ ὧν παρεδόθη εἰς θάνατον ἡ ψυχὴ αὐτοῦ καὶ ἐν τοῗς ἀνόμοις ἐλογίσθη καὶ αὐτὸς ἁμαρτίας πολλῶν ἀνήνεγκεν καὶ διὰ τὰς ἁμαρτίας αὐτῶν παρεδόθη
This "handing over" will happen to Jesus also, and is mentioned in several places in Mark in relation to Jesus (3:19; 9:31; 10:33; 14:10; 14:11; 14:18; 14:21; 14:41; 14:42; 14:44; 15:1; 15:10; 15:15).
καιρὸς – "the time"; this is not chronological time.
βασιλεία – "kingdom" is not a place, more "the reigning".
εὐαγγέλιον – "good news" was normally a proclamation announcing benefit for the people. Good news begins this Gospel of Mark.
This is the sixth post in a series – you can begin here:
Mark in Slow Motion 1
Mark in Slow Motion 2
Mark in Slow Motion 3
Mark in Slow Motion 4
Mark in Slow Motion 5
.
Similar Posts: