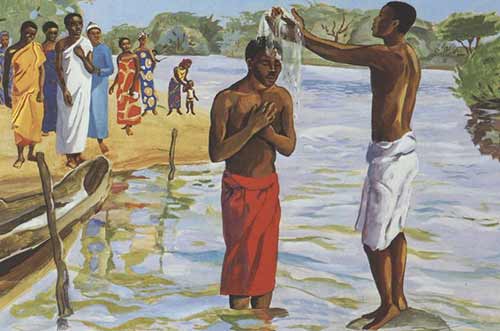 In those days Jesus came from Nazareth of Galilee and was baptized by John in the Jordan. And just as he was coming up out of the water, he saw the heavens torn apart and the Spirit descending like a dove on him. And a voice came from heaven, 'You are my Son, the Beloved; with you I am well pleased.'

Mark 1:9-11
Καὶ ἐγένετο ἐν ἐκείναις ταῖς ἡμέραις ἦλθεν Ἰησοῦς ἀπὸ Ναζαρὲτ τῆς Γαλιλαίας καὶ ἐβαπτίσθη ὑπὸ Ἰωάννου εἰς τὸν Ἰορδάνην
καὶ εὐθὲως ἀναβαίνων ἀπὸ τοῦ ὕδατος εἶδεν σχιζομένους τοὺς οὐρανοὺς καὶ τὸ πνεῦμα ὡσεὶ περιστερὰν καταβαῖνον ἐπ᾽ αὐτόν·
καὶ φωνὴ ἐγένετο ἐκ τῶν οὐρανῶν Σὺ εἶ ὁ υἱός μου ὁ ἀγαπητός ἐν ὦ εὐδόκησα
We are in the wilderness (ἐν τῇ ἐρήμῳ) – ἔρημος occurs 9 times in Mark. It is translated (NRSV) as "wilderness", "deserted place", "in the country" (1:45). So the connection between these occurrences is lost in translation. In LXX (the Septuagint – the Greek translation of the Hebrew Bible) has 104 occurrences of ἔρημος in Exodus through Deuteronomy. During the Exile, the prophets pointed to a new Exodus hope – ἔρημος occurrs 38 times in Isaiah, 26 in Jeremiah, 34 in Ezekiel.
Mark echoes these in his use of ἔρημος – Jesus spends time in the ἔρημος, feeds in the ἔρημος, is leading us to a new Exodus.
Jewish leaders stay home, marry, and have a family – in this Mediterranean culture, they remain with the kinship network. Here, Jesus leaves family and village.
ἀπὸ Ναζαρὲτ – from Nazareth, a place with about 500 people, not mentioned in the Hebrew Bible. This is Mark, basically saying: "Jesus from Nowhere". Galilee underscores edge with Jerusalem as centre.
1:10 εὐθὲως – immediately ("as he was coming up out of the water"). εὐθὲως and its variant occurs 47 times in the action-packed, "immediately" Mark.
σχιζομένους – "O that you would tear open the heavens and come down" Isaiah 64:1
"like a dove" is an obscure allusion.
"Son of God", here, is presumably not the ontological, Trinitarian understanding which took centuries to come to define. (see Ps 2:7; Is 42:1-2)
As this year the Sunday Gospel reading focus is on St Mark's Gospel, I thought I'd now start some of my personal study and Lectio Divina with that Gospel.
This is the fourth post in a series – you can begin here:
Mark in Slow Motion 1
Mark in Slow Motion 2
Mark in Slow Motion 3
Similar Posts: