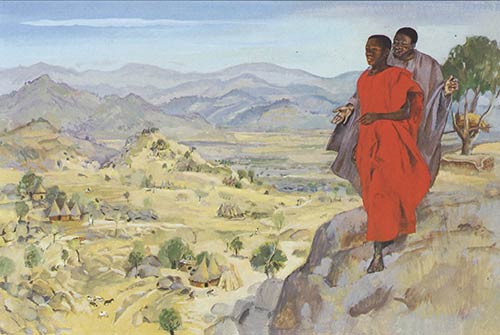 And the Spirit immediately drove him out into the wilderness. He was in the wilderness for forty days, tempted by Satan; and he was with the wild beasts; and the angels waited on him.


Mark 1:12-13
Καὶ εὐθὺς τὸ πνεῦμα αὐτὸν ἐκβάλλει εἰς τὴν ἔρημον
καὶ ἦν ἐκεῖ ἐν τῇ ἐρήμῳ ἡμέρας τεσσαράκοντα πειραζόμενος ὑπὸ τοῦ Σατανᾶ καὶ ἦν μετὰ τῶν θηρίων καὶ οἱ ἄγγελοι διηκόνουν αὐτῷ
εὐθὺς – immediately; action-packed Mark; this repeated εὐθὺς can be lost in translation (see 1:10)
τὸ πνεῦμα – the wind
ἐκβάλλει – ἐκ out; βάλλω throw – strongly drive
ἔρημον – wilderness
40 in the wilderness – cf. Moses; the Chosen People; Elijah
πειράζω – tempted; tried, disciplined, tested, trialed,
Σατανᾶ – Σατάν adversary
Jesus starts in the wilderness with John. Now he is alone – but Mark shows he is not alone; he is with the wild beasts and angels (as well as his adversary). The wilderness is the place of revelation of God, and betrothal with God; it is the place of testing. Jesus dwelling peacefully with wild animals references back to a renewed creation.
This is the fifth post in a series – you can begin here:
Mark in Slow Motion 1
Mark in Slow Motion 2
Mark in Slow Motion 3
Mark in Slow Motion 4
Similar Posts: