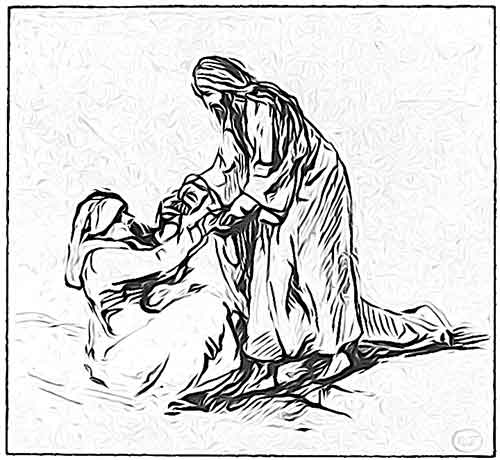 As soon as they left the synagogue, they entered the house of Simon and Andrew, with James and John. Now Simon's mother-in-law was in bed with a fever, and they told him about her at once. He came and took her by the hand and lifted her up. Then the fever left her, and she began to serve them.

Mark 1:29-31
Καὶ εὐθέως ἐκ τῆς συναγωγῆς ἐξελθόντες ἦλθον εἰς τὴν οἰκίαν Σίμωνος καὶ Ἀνδρέου μετὰ Ἰακώβου καὶ Ἰωάννου
ἡ δὲ πενθερὰ Σίμωνος κατέκειτο πυρέσσουσα καὶ εὐθὲως λέγουσιν αὐτῷ περὶ αὐτῆς
καὶ προσελθὼν ἤγειρεν αὐτὴν κρατήσας τῆς χειρὸς αὐτῆς· καὶ ἀφῆκεν αὐτὴν ὁ πυρετός εὐθὲως, καὶ διηκόνει αὐτοῖς
Jesus' typical day continues…
Καὶ εὐθέω – we MUST be in Mark! And immediately is used eight times in Mark 1 alone!
The house of Simon and Andrew – at least two families live here. Why is Peter's mother-in-law living with him? Is she a widow?
Simon and Andrew, with James and John – the four who were called first.
Simon's wife is mentioned in 1 Cor 9:5; here is her mum.
took her by the hand and lifted (ἤγειρεν) her up – cf Mark 5:41 & Mark 9:27
The language is resurrection language: the one who rises, raises up others. And she served (διηκόνει – literally associated with the word deacon) them. After the Resurrection, we are called to serve.
As this year the Sunday Gospel reading focus is on St Mark's Gospel, This is some of my personal study and Lectio Divina with that Gospel.
This is the ninth post in a series – you can begin here:
Mark in Slow Motion 1
Mark in Slow Motion 2
Mark in Slow Motion 3
Mark in Slow Motion 4
Mark in Slow Motion 5
Mark in Slow Motion 6
Mark in Slow Motion 7
Mark in Slow Motion 8
Similar Posts: