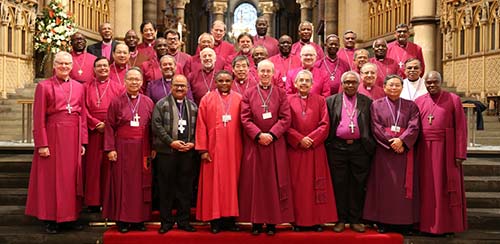 [Update 22 January 2016: The point I made in this post, that the Anglican Primates overreached their authority, has now been almost universally spotted and expressed, without any significant rejoinder. The Archbishop of Canterbury has now posted his understanding of what transpired. How different the conversations might have been by now if his words had been the ones in the final Communiqué. He says: "we ASKED that TEC, while attending and playing a full part in our meetings and all discussions, will not represent the Anglican Communion to other churches and should not be involved in standing committees for a period of three years. During this time we also ASKED that they not vote on matters of doctrine or how we organise ourselves." Cf. The wording in the actual Communiqué:"we formally acknowledge … by REQUIRING that for a period of three years TEC no longer represent [an unclear] us on ecumenical and interfaith bodies, SHOULD not be appointed or elected to an internal standing committee and that while participating in the internal bodies of the Anglican Communion, they WILL not…"] Original post:
Contrary to attention-grabbing, click-baiting headlines, last week's meeting of Anglican Primates did not suspend The Episcopal Church (TEC). That's what a lot of people hoped would happen, and many predicted would happen, but it didn't. It is not even something that the Primates can do. Even what the Primates claim to have done overreaches what they have authority to do. What they actually claim to have done may be realised, but not automatically by virtue of their decision. They just do not have that power.
After hearing very little from the official news presence of the Anglican Church in Aotearoa, New Zealand and Polynesia (ACANZP), suddenly our church's news site had the heading: "PRIMATES VOTE TO SUSPEND TEC". I thought this was over-egged – unhelpful at the least; at worst, untrue. In the (twitter) conversation that ensued I discovered that the Washington Post (not a formal Anglican news source) had an expanded version: "Anglican Communion suspends the Episcopal Church after years of gay rights debates". I was referred to the post by Andrew McGowan of the Berkeley Divinity School at Yale who makes similar points to my own.
I had not given much credence to the predictions of walkout of (ten) Anglican Primates on day one (or any other day). I see Justin Welby, Archbishop of Canterbury, as being a particularly skilled diplomat. He visited every Primate individually, and rang each one the week before the meeting.
The final communiqué stated what would be obvious: a majority of primates affirm "marriage as between a man and a woman in faithful, lifelong union". [Don't mention polygamy, divorce-and-remarriage for heterosexuals, sequential polygamy – this was never about tradition, scripture, or marriage – let's be plainly honest, it was about LGBT people.]
Thereafter the communiqué states: [we formally require] "that for a period of three years TEC no longer represent us on ecumenical and interfaith bodies, should not be appointed or elected to an internal standing committee and that while participating in the internal bodies of the Anglican Communion, they will not take part in decision making on any issues pertaining to doctrine or polity."
This section deserves reflection. Who is the "us" that the Primates see TEC as "representing on ecumenical and interfaith bodies"? Do they see TEC representing the Primates on such bodies? Surely not! Or are the Primates here taking it upon themselves to speak for the whole Anglican Communion – that by "us" here they mean "Anglicanism"? If so, when and where, exactly, do they think they have received this mandate? Is a convenient crypto-papal ecclesiology at work here?
Furthermore, although I would be extremely surprised if TEC uses a vote in the next three years on international Anglican bodies, that will be out of respect for the Primates, rather than automatically – the Primates do not control these bodies. I would understand that not even the Primate of TEC can require this. Nor do the Primates control the ecumenical and interfaith bodies they mention. How did the Primates come to so patently overreach themselves?
Anglican bishops can sometimes (often?) sound like their Roman Catholic homonyms (or even like the pope!), giving the impression that they, rather than synods, govern the church. Primates, with double the plus-power of bishops, can sound even more so. But Primates are primus inter pares, first among equals on the bench of bishops. The primate of ACANZP is as subject to the church's synodical governance as anyone else.
ACANZP has a unique polity (warned against in a previous Primates Meeting! – but hey, we've moved onto far more important matters – LGBTs). We have a team of three men sharing our primacy. Two of our sharing primates went to this meeting. Did ACANZP get one vote or two in this strange world where (not in the Anglican Communion) ACNA's archbishop was offered a vote but did not take it (respect!), and if the former how did they proceed? How did our ACANZP Primate team vote for Addendum A 4?
Reminder 1 The Constitution of ACANZP makes no mention of The Primates Meeting, nor of the called-by-many "Instruments of Communion". Our church's Constitution simply declares:
the Anglican Communion, … is a fellowship of duly constituted Dioceses, Provinces or Regional Churches in communion with the See of Canterbury
Reminder 1a Not that it makes any difference (see Reminder 1), apparently this was not a Primates Meeting but a meeting of the Primates.
Reminder 2 The Primatial team of ACANZP can in no way impose their decision, or any decisions made at Primates' Meetings (or of meetings of Primates) on our church. They (as anyone) can attempt to persuade, but our church is governed by synodical processes, not by primates, nor by bishops.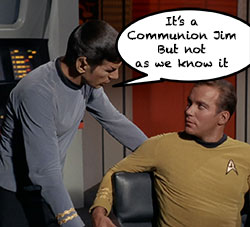 Reminder 3 The Episcopal Church is and remains a member of the Anglican Communion. I would posit that in many ways ACANZP is more in communion with TEC than it is with other parts of the Anglican Communion. All bishops in ACANZP can preside, preach, and share in ordinations in TEC, while some of our bishops, because of their gender, cannot function as bishops in, for example Central Africa, Melanesia, Nigeria, Papua New Guinea, South East Asia, our neighbouring Sydney archdiocese, and even, until recently, in the mother Church of England itself. I am not aware that all Primates gathered at communion together last week.
Reminder 4 TEC retains representation in any committees, and can, even in the next three years, be asked to send representatives to various bodies "for a period of three years TEC …while participating in the internal bodies of the Anglican Communion"; in such cases it would have a voice but may choose to not vote "on any issues pertaining to doctrine or polity" until 2019 (the year before the 2020 planned Lambeth Conference).
Reminder 5 There was a leak – If even Primates cannot hold to an agreed embargo, our so-last-year culture of secrecy is patently over. It is time for the church to move into the 20th century (sic). Knowledge must cease being power. Transparency must become the new black (and the new purple).
Reminder 6 The Primates' statement uses language like "all of us" and "unanimous" but makes no mention that the Primate of Uganda walked out of the meeting on the second day after getting no traction for his resolution for "the Episcopal Church USA and the Anglican Church of Canada to voluntarily withdraw from the meeting and other Anglican Communion activities until they repented". At the Friday press conference (video below), the Archbishop of Canterbury indicated, in the penultimate topic, that he had no idea why the Primate of Uganda left, and he had not been spoken to about this. Archbishop Stanley Ntagali's statement on his leaving is here. It is also notable that other GAFCON primates did not follow Archbishop Stanley Ntagali's example. This will not be lost on GAFCON supporters.
Reminder 7 The Archbishop of Canterbury concluded the press conference by expressing as his fears for Lambeth 2020 that he "hopes to get the money to do it". He went on to stress the point so that it won't be lost on many with ears to hear: TEC is a most significant financer in the Anglican Communion, especially of the Lambeth Conference. The "three years" (without mention of needing to change anything or possibility of extension), concluding a year before Lambeth 2020 , is strategic.
Your comments, as usual are very welcome, and, also as usual, I will not allow ad hominem or anonymous comments. This is a website which encourages light rather than heat. If that restricts you, there are plenty of other places where you can participate on this topic without these guidelines.
The Presiding Bishop of TEC:
A statement on the Primates Meeting from Presiding Bishop Michael Bruce Curry.

Posted by The Episcopal Church on Friday, 15 January 2016
The Press Conference at the end of the meeting:
For a TEC perspective, Tobias Haller is succinct in his 19 January blog post The Lawes of Ecclesiastical Politicks
If you appreciated this post, do remember to like the liturgy facebook page, use the RSS feed, and sign up for a not-very-often email, …
Similar Posts: