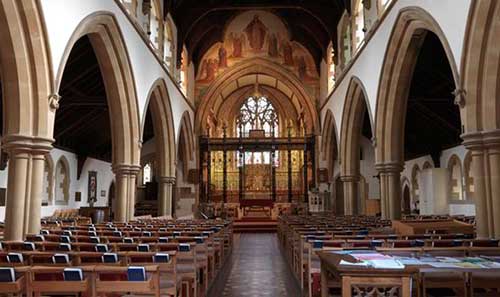 It's that Southern-Hemisphere time of year again when people get a chance to travel around and see what other churches are doing. Here are 11 actual, tried-and-tested, assured ways that actual churches are using to ensure that their ageing, shrinking club does not have visitors or new people:
1. Don't have a website. Websites now are easy to produce, simple to maintain, and free. A facebook page can function as an excellent church website (congratulations Taupo Anglican Parish).
2. If you have a website make sure it looks like a 1970s video game. Better still – don't update it. If it looks like it is regularly updated, that's extra helpful if information is actually incorrect. If you have any images, make them last-millenium, poorly pixilated, tacky clip art. Photos should be of few people, old, and only of one gender. Current clergy and leaders should not be identifiable by visitors.
2a. Do not provide a map or an address of your church – if they are there, make them nearly impossible to find
2b. Do not include times of services. If they are there, make sure they are the wrong times, the times you used to meet, or the times you meet when it is not January
2c. Do not provide contact information. Phone numbers should be of clergy who left long ago.
2d. Do not have village, city, town, region, and suburb information on your website, nor denomination – no way that a google search of a visitor would locate your site
2d. Do not have a diocesan website that provides information geographically or in the way that visitors might be able to find a church service
2e. As most people now access the web from phones, websites should be very mobile unfriendly
3. On church answerphone messages do not put service times. If you put service times, make sure they are wrong
4. Do not have a notice board by your church building.
5. If you have a notice board make it unreadable from the road. Put a message about Jesus or a quote from the Bible, but no service times or contact information.
5a. If you put service times, make sure they are wrong, or the times that you meet when it is not January.
5b. If there is a contact phone number make sure it is is out of date, or the person is on holiday and does not answer the phone.
6. Meet in a place different to where you normally meet without putting this on your website or church notice board
6a. Meet at a different time to where you normally meet without putting this on your website or church notice board
6b. Meet one week in one place, and next week in a completely different place without telling people. Those in the club all know that is what you do.
7. Do not have anyone greeting or welcoming at the church door before the service. Especially if where the service is being held is unclear. It is also good not to use the obvious main door, and to keep this locked.
8. In major holiday and tourism destinations, do not put information in camp grounds, motels, hotels, or tourist offices (congratulations Waiapu Cathedral on your attractive, two-sided, third-of-an-A4 card giving all the information one needs – found in a busy tourist spot)
9. Do not have a New Year celebration. Take no account that people make New Year's resolutions and attempt to make a fresh start, and that for many this may include spirituality, community, service, and a search for meaning.
10. Do not have an advertisement or presence in local newspapers.
10a. Do not have a presence on local radio
10b. certainly do not advertise on TV, or at the cinema

11. A bonus to make visitors feel extra unwelcome in your club, do not explain unusual practices your church has. Do not even provide a written explanation.
All of the above examples are taken from real events in the last three weeks.
Can you add further helpful suggestions?
If you appreciated this post, do remember to like the liturgy facebook page, use the RSS feed, and sign up for a not-very-often email, …
Similar Posts: