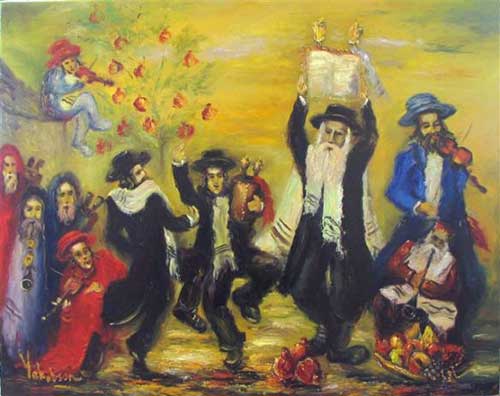 Recently, from the October Full Moon, Jews celebrated the week of Sukkot. In, say, Jesus' day, you would live in your village and go out to the fields – day by day. At harvest time, you wanted to get the harvest in as quickly as possible and so stayed out in the fields, living in a simple structure. Nowadays, Jews continue to make such a sukka, little booths, huts, where they spend as much time in them as possible – certainly for meals, maybe even sleeping there. In Jewish areas in cities, you can even see booths on balconies. They also connect Sukkot with the difficult 40 years after leaving Egypt, journeying to the Promised Land.
This year, towards the end of Sukkot, there was World Mental Health Day. In my community, I connected Sukkot and mental health. Sukkot, this harvest festival, is a time of joy. But this joy is not dependent on externals. One leaves one's firm house, its permanence and comfort, for a flimsy hut. During Sukkot, Jews read Ecclesiastes, the Bible's reflection on the futility of ordinary pursuits and pleasures, and the search for deeper meaning.
Sukkot is followed by Simchat Torah – Jews celebrating the end of the annual cycle of public Torah readings, and the beginning of a new cycle.
A couple of Sunday's ago, I was in church in the North Island, last Sunday I was in another in the South Island – both follow the international, ecumenical three-year Sunday cycle of Bible readings. This stands on the Jewish tradition of reading the Torah (and other scriptures – see Sukkot's reading of Ecclesiastes) systematically week by week, year by year. It means that (as I experienced) people can travel around and still make the last-Sunday-this-Sunday connection. […insert "random irritations about the three-year cycle and how I could design one so much better" here…] As an afterthought – what preacher voluntarily chooses to preach on a difficult reading such as, every three years, we all need to do if we follow lectionary (or systematic) approach: The Parable of the Wedding Banquet (Matthew 22:1-14).
If you appreciated this post, do remember to like the liturgy facebook page, use the RSS feed, and sign up for a not-very-often email, …
image – I see the above image of Simchat Torah in innumerable places, but I am unable to source the artist. If you know, please put this in the comments below.
Similar Posts: