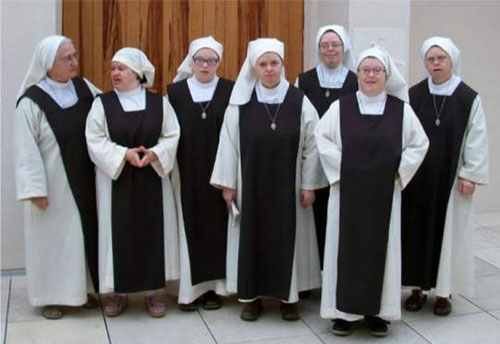 Recently, an e-friend pointed me to a warming story of a community of Little Sisters Disciples of the Lamb where women with Down syndrome can live a contemplative life. This is made possible because the single community has both sisters with and without Down syndrome.
It began when two young women met Mother Line (now prioress of the community) and Sister Veronique, a young woman with Down syndrome. Veronique had been turned down by every congregation she presented herself to, and Line recognised that Veronique did indeed have a call to Religious Life.
The sisters live in close proximity to the Benedictine Abbey of Fontgombault. The Abbey has supported the sisters from its beginning, and a monk of the Abbey is their chaplain.
They stress that this is not two communities but a united community. The monastic, contemplative life is adapted to the gifts and abilities of the sisters with Down syndrome – both in its prayer and its work. They draw on the spirituality and Little Way of Thérèse of Lisieux. The community was founded in 1985.
There has also been a also a close association with Jérôme Lejeune (1926–1994). He was a French pediatrician and geneticist who discovering the link of Down syndrome to chromosome abnormalities. He is known for his subsequent opposition to prenatal diagnosis and abortion. The Roman Catholic Church has named him a "Servant of God", the first step towards declaring him a saint.
You can read an article about the sisters here, including an interview with Mother Prioress Line.
The sisters' website is here.
If you appreciated this post, consider liking the liturgy facebook page, and/or signing up for a not-very-often email, …
Similar Posts: