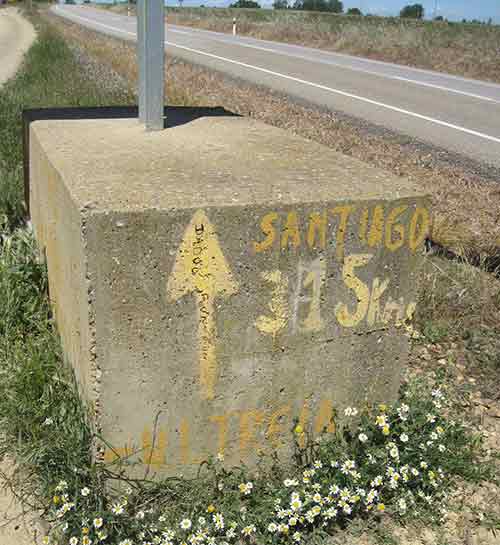 Before I went to Spain to walk the Camino de Santiago, I knew about the saying, "Ultreia!" and the response, "et Suseia!". "Ultreia!" was what one pilgrim said to another, and "et Suseia!" is the reply. This Latin/French/Spanish means something like, "Go further!" and "And go higher!"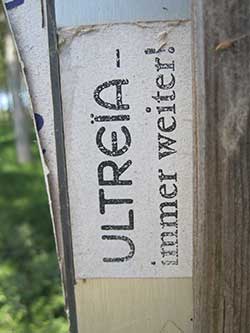 The words appear in the 11th century hymn, Dum Pater Familias (lyrics off this site), which appeared in the Codex Calixtinus, "an anthology of background detail and advice for pilgrims following the Way of St. James to the shrine of the apostle Saint James the Great, located in the cathedral of Santiago de Compostela".
Sometimes I wouldn't catch the greeting addressed to me (maybe there were some locals using it), but mostly, it seems, "Ultreia!" appears to have been forgotten. The locals constantly greet pilgrims with, "¡Buen Camino!" ("Good Way!").
With some, including with local priests I spoke to on the Camino, I came to the theory that the greeting and the response is normally, appropriately what pilgrims greet each other with. This might explain why locals are not using it with pilgrims walking by – locals are not doing the pilgrimage; they are not pilgrims at that time, and so they cannot appropriately use "Ultreia!"
I tried to renew this greeting amongst some pilgrims, and some were delighted to take it up.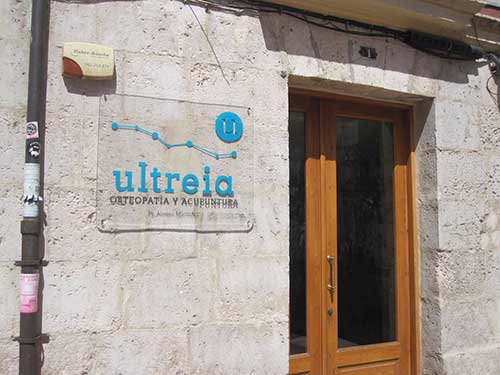 Those familiar with CS Lewis might recognise that, in the wonderful novel The Last Battle, there is the cry, "further up, come further in!" In this echo of the "Ultreia!" greeting, I'm inclined to think CS Lewis is alluding to pilgrimage.
Furthermore, I think we still use this pilgrim greeting – without being aware of it. Here, certainly, when going on a trek, or walking in the mountains, we regularly say, "Onwards and upwards!" This, I suggest is "Ultreia et Suseia!"
I interpret the saying as encouraging pilgrims not just to go physically onwards ("Ultreia!"), but also to grow spiritually, to go "upwards" ("et Suseia!"). Pilgrimage is both: the physical going further, and the spiritually going higher.
And, once again, this is a parable for life. We are not just encouraging one another to keep going in life, but, with life as a pilgrimage, as we continue on in life, we also are encouraged to grow spiritually.
Ultreia et Suseia!
Onwards and upwards!
Every morning we take the path,
Every morning we go further.
Day after day, the road calls us
It is the voice of Compostela.
Go further! Go further! And go higher!
God assist us!
Dirt road and Faith
Ancient way of Europe,
The Milky Way of Charlemagne
This is the way all my pilgrims.
Go further! Go further! And go higher!
God assist us!
And while there at the end of the continent,
Santiago waits ahead,
Always his fixed smile
The sun dies in Finistère.
Go further! Go further! And go higher!
God assist us!
Tous les matins nous prenons le Chemin,
tous les matins nous allons plus loin,
jour après jour la route nous appelle,
c'est la voix de Compostelle!
Ultreïa! Ultreïa! Et sus eia!
Deus adjuva nos!
Chemin de terre et Chemin de foi,
voie millénaire de l'Europe,
la voie lactée de Charlemagne,
c'est le Chemin de tous les jacquets!
Et tout là-bas au bout du continent,
Messire Jacques nous attend,
Depuis toujours son sourire fixe
Le soleil qui meurt au Finisterre.
This is another post in the series on my walking the Camino. I took these three photos walking the Camino.
If you appreciated this post, consider signing up for a not-very-often email, and/or like the liturgy facebook page…
Similar Posts: