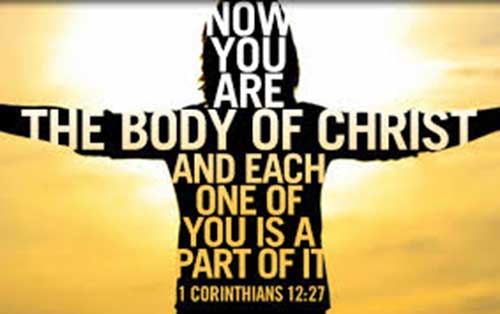 Principle 3: The church at prayer is Christ in his Body at prayer
The third principle, above, comes from Celebrating the Eucharist
by Patrick Malloy (The first principle is here, the second principle is here).
In the liturgy, the church enters consciously and intentionally into the prayer that Christ offers ceaselessly before God. The liturgy, then, is not a matter of some people watching others do sacred things, but of the entire assembly being caught up in a sacred and eternal event….It is an actual participation in the liturgy of heaven… We are giving our voices and our bodies to Christ so that he might pray his eternal prayer before God "on earth as it is in heaven."
Once again, this principle undergirds so much of my book, Celebrating Eucharist; the discussions on this site focusing on the two great prayers: the collect and the eucharistic prayer – in Christ, in the power of the Spirit, offered to God the Source of all Being; and the efforts with making the worship environment enhance the sense of participation rather than spectating.
Principle 1: The entire assembly celebrates the liturgy
Principle 2: Actions are Prayer
Similar Posts: