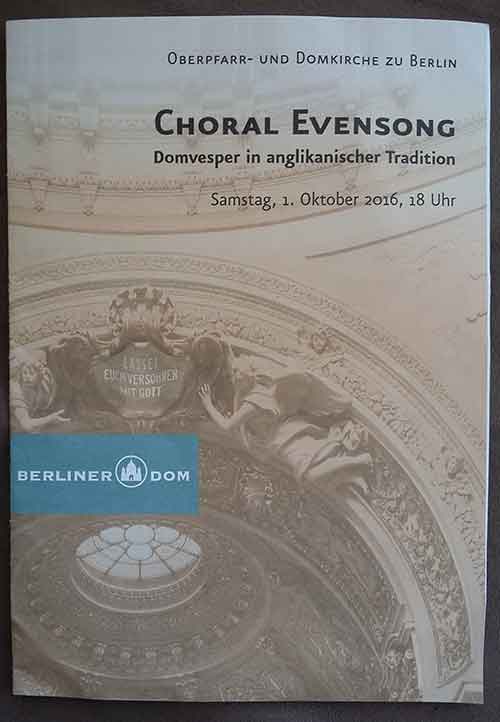 A friend of mine has just been to Germany. He told me something I was totally unaware of. German churches are celebrating Choral Evensong! That's Anglican-style Choral Evensong.
As an example, he brought me back the service booklet for this from the Berliner Dom (thanks! – that is the service booklet in the image above). As you can see, the Berliner Dom has Choral Evensong – Domvesper in anglikanischer Tradition – Vespers in the Anglican Tradition.
That service booklet has the full English words for 1662 Evensong on the left hand pages and its translation into German on the right hand pages.
This Berlin Cathedral is a protestant church, but the same is happening at Cologne Cathedral which is Roman Catholic. And, presumably, this is more widespread. And possibly even beyond Germany. Readers here may know other examples.
This is not just tarted-up, Roman Catholic Vespers. Thomas Cranmer, in producing Evensong, combined the offices of Vespers (from which he drew the Magnificat, for example) and Compline (source of the Nunc Dimittis).
With Anglicanism numbers shrinking (see here and here), Choral Evensong is, internationally a growing phenomenon.
Here are examples, totally unexpected for me, of this particular Anglican tradition being taken up in quite 'unAnglican' contexts.
What are your thoughts?
If you appreciated this post, consider liking the liturgy facebook page, using the RSS feed, and/or signing up for a not-very-often email, …
Similar Posts: