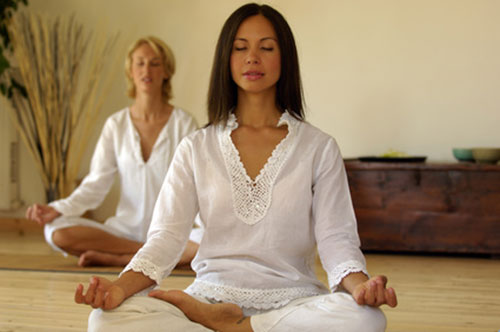 I recently had a conversation with a young man who had just completed 10 days in absolute silence, meditating 10 hours a day. This was at a Buddhist centre in New Zealand. 60 people attended. Attendance was free (koha – donation).
Yes, there are places in New Zealand where you can go on a silent Christian retreat. When I searched "silent retreat New Zealand" the first 14 were Buddhist or Hindu. The first Christian mention was the 15th entry.
The Christian contemplative, spiritual tradition is little known – even by Christians and, sadly, even by clergy!
Only 58,000 people in New Zealand call themselves Buddhist, just over 1%. But if people discuss spirituality, or seek help to go on the inner, spiritual journey, it is much more often that Buddhism will spring to people's mind and conversation, and obviously action, than Christianity.
I have looked on the website where the 10-day, introductory Buddhist course was offered. This is not just a once-a-year event. They have a couple of 10-day courses every month. There are 30-day courses. There are other courses. All in this one centre.
How is your own contemplative practice? How is the contemplative practice of your Christian community? Of your clergy? Would you be able to mentor someone in the Christian contemplative life? Would such a person find your community supportive and encouraging of a new person's spiritual journey? How focused is our Christian community on sharing our inherited Christian contemplative tradition so that those seeking to embark on the inner, spiritual journey would look to Christianity at least as a viable option?
Signs of Hope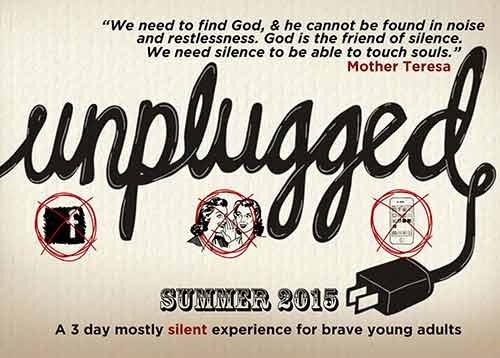 There will be signs of hope that spring to your mind (Taizé is a most obvious one that immediately springs to mind). Here is one I was delighted to see recently (ad above), organised by one of our tertiary chaplains, Rev. Joshua Moore (better known as "Spanky"):
Unplugged is a 3 day mostly silent guided retreat for young adults – with our Spring installment going from Friday 27th Nov 9am till Sunday 29th Nov 5pm. That means no cell phones (you'll be asked to hand it in at the start), no facebook, and very limited time to talk. We're not saying it's going to be easy, we're not even saying it'll be fun! But for our hyper-connected generation we hope it will be a unique experience where you get to know God, and yourself, much better. The weekend will be lead by Spanky, and will include times of shared prayer and solo activities. We're staying at the Ecolodge in Peel Forest – a secluded 20 person lodge that is close to being off the grid including composting toilets & solar power, and Peel Forest park is close by for walks during the days. If you choose to come to Unplugged we ask you to take the challenge of silence seriously for the sake of others who are coming along. We also ask that you make the commitment to come for the full time.
It's been run a couple of times, both times with about 18 young adults. It's a 3 day introduction to silence and stillness – 3-4 daily offices of prayer, plus optional meditations and practices. Contemplative practices included: Centering Prayer, Meditation, Lectio Divina, Daily Examine.
What do you think?
If you appreciated this post, consider liking the liturgy facebook page, using the RSS feed, and/or signing up for a not-very-often email, …
Similar Posts: