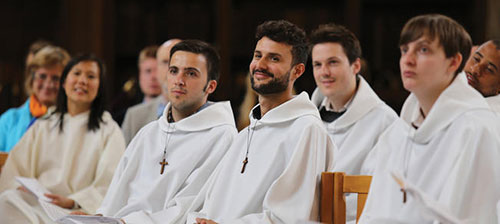 I think one of the best signs of hope within Anglicanism was the founding by the Archbishop of Canterbury of St Anselm's community in Lambeth, his official residence. Young people were invited by him to live a monastic lifestyle of prayer and service for a year. Places such as Taizé and Iona have helped make monastic traditions more accessible to young people. One of the hopes of this website is to help translate the insights, disciplines, and practices of monasticism beyond monastery walls.
Another hope that I have stressed on this site is that, whilst anyone who knows me knows my valuing of academic rigour and pastoral skills, I yearn to see it all founded on a strong spiritual, contemplative foundation. I would love to see a spiritual year (and here) as the agreed foundation for Christian leadership.
And St Anselm's Community is modelling what that would look like: a community life under a Rule of Life which focuses on the regular rhythm of prayer; with teaching on spirituality; the opportunity to make a 30-day silent retreat; and service in society following an action-reflection model.
In the case of St Anselm's, alongside the residential community of 34 young people aged 20 to 35, there have been others participating but not living in the community. And all is alongside the ecumenical religious community of Chemin Neuf which lives in Lambeth Palace to undergird the life of prayer there.
Here is an article by Sam Hailes about the first group that has experienced this community.
Here is the website of the Community of St Anselm. Here is their twitter profile.
If you appreciated this post, do remember to like the liturgy facebook page, use the RSS feed, and sign up for a not-very-often email, …
Similar Posts: