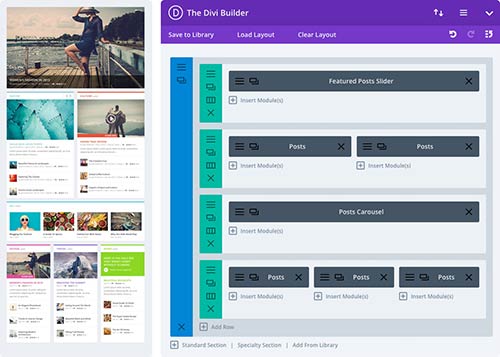 People who have been part of the community around this site have seen this site be rebuilt several times. There's been rebuilding in the back (three times) and rebuilding on the front.
Recently, a major WordPress upgrade and increased security demands meant that the theme I used (the "front") could no longer be relied upon to move this site into the future (there would be no upgrades of the theme I had bought to move into this different, more secure future).
So, after MUCH research, I purchased Divi, the WordPress drag-and-drop theme builder.
I tried Divi for a while (and that was fine! It took a day or two to get my head around the concepts), and then noticed that, as part of my purchase, there was Extra, a magazine-style WordPress theme using many Divi principles and resources.
So currently, Extra is the basis of this site – I am learning how to customise it so that this site's look is how I want it to be. Already, the site is more functional than it was previously – resources are easier to find; it loads much faster than it did. (In "spare" time) I will keep improving its look and functionality (I do actually have a Real Life and ministry!).
I hope that you (regulars) are positive about this move forward. As well as improving look and functionality, there are still, back end, parts of this huge site that I need to make time to rebuild. I will also continue to improve how the site looks and functions.
Divi is one of those able-to-do-anything types of software. You can design any website to look any way you want. And you can make the changes and see exactly what you are changing. Extra is specifically organised as blocks, with modules that you can place within each block – it is for bloggers and magazine-style sites.
If you buy Divi (including Extra) [and I heartily endorse and recommend it], using the link on this site will help offset some of the costs of running this site.
Divi and Extra have extensive help. Clear videos and instructions guide you. There is a large community of people willing to help. There are LOTS of themes and templates to start from. There are people at Elegant Themes ready to reply as soon as possible to help with questions or to provide coding for further customisation. Such coding is easy to apply even for the least experienced person. I made three significant changes to the basic build that the people at Elegant Themes had CSS code for me within hours – and anyone would be able to know where to put such – all is very clearly organised.
Divi and Extra are responsive: they automatically adapt from laptop to tablet to cell phone.
Similar Posts: