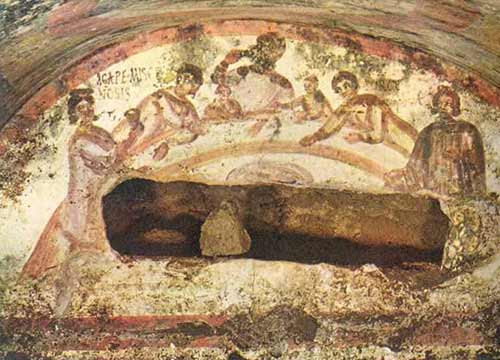 Agape Meal – An Excursus
During this Coronovirus-lockdown period, many people are missing the Eucharist. But, there is another sacred meal – maybe God is calling and enabling us to rediscover this?
During this Coronovirus-lockdown period, I have increased the conviction that I have long held – that God is calling us to renew Daily Prayer. It's great that the Eucharist has become so important on the worship landscape – the Lord's own service for the Lord's own people on the Lord's own day. But, with the Eucharist as the jewel in the crown, we have been neglecting the crown in which that Eucharistic jewel is best held: Daily Prayer.
However, as well as Daily Prayer, there (originally) was another crown in which the jewel of the Eucharist was set: a formal, sacred meal. At this point, we could become distracted debating whether or not Jesus' last meal was a Passover meal. What we do know, is that it was a formal meal. And, after Jesus' death and resurrection, the followers of Jesus celebrated Jesus' Person and Life in a formal meal which included bread and wine with thanksgiving.
In time, this formal, sacred meal and the Eucharist were separated. That framing meal is now often referred to as an Agape Meal. You can celebrate an Agape Meal in your household during lockdown (and beyond). Although (just as with the Daily Office/Daily Prayer) there is the connection I've described with the Eucharist, there need be (just as with the Daily Office/Daily Prayer) no confusion with the Eucharist, and I suggest that, for the avoidance of all doubt, when you celebrate an Agape Meal you steer clear of appropriating texts from your familiar Eucharistic liturgies.
Because, confusion is not unknown. When I was training for the priesthood at our national Anglican seminary, St John's College, a group wanted to celebrate a formal Agape Meal. They asked a priest to lead it. And then they used texts from Eucharistic liturgies. At the conclusion, some were overcome with uncertainty – they wondered: had they ended up celebrating a Eucharist? They called people back to reverently consume all the bread and wine. I am suggesting that with a little care, no such confusion ensues.
When you celebrate your formal, Agape Meal, you can include elements of: Psalm(s), Singing, Reading(s), Reflection(s), Silence(s), Prayers (mutual confessing, praise, thanksgiving, intercession), lighting (extinguishing) candles, sharing money with the poor and needy, … a grace before (and after) the meal, and include words (I have adapted) similar to the following:
Over Wine
Blessed are you, Sovereign God, Ruler of the universe, who creates the fruit of the vine to gladden the human heart; May we who share this wine abide in Jesus the true Vine. Amen.

Over Bread
Blessed are you, Sovereign God, Ruler of the universe, Who brings forth bread from the ground to nourish us; May we who share this bread be fed by Jesus the Bread of Life. Amen.
To be clear, there is absolutely no reason, either theological or canonical, if this post is followed, why you could not celebrate an Agape Meal in your household – led by (if you feel a leader is needed) anyone either lay or ordained. That may phrase it too negatively. Let me put this positively: you are encouraged to celebrate an Agape Meal. And you can join virtually to other households and do this together (by Zoom or your platform of choice).
St Paul, in 1 Cor 11:20-34 appears to be describing the Eucharist still set within the frame of the Agape Meal ("each of you goes ahead with your own supper, and one goes hungry and another becomes drunk"). Jude 12 mentions the Agape Meal. Early in the Second Century, Ignatius of Antioch speaks about a formal meal for Christians separate from the Eucharist. I could keep tracing the development, the abuses, and the reducing celebration of the Agape Meal. It did continue in some traditions (India's Saint Thomas Christians, the Ethiopian Orthodox Church, and many Coptic Orthodox churches are examples).
Eastern Orthodox practice continues this Early Church tradition. They have what is called the Antidoron (ἀντίδωρον) [also called, 'eulogiæ' and 'prosphora']. At the Liturgy of Preparation, "the Lamb" is cut from a loaf – this Lamb is what will be consecrated in the Eucharist. After the Eucharist, the bread that remains (antidoron) after the Lamb was removed is given to anyone, both to communicants and to non-communicants.
Various traditions, Brethren, Moravian, and Methodists, have revived the practice of the Agape Meal. Some have used bread and water. There are several hymns associated with the practice, including Charles Wesley's "The Love-Feast":
Come and let us sweetly join
Christ to praise in hymns divine;
Give we all, with one accord.
Glory to our common Lord.
Hands and hearts and voices raise;
Sing as in the ancient days;
Antedate the joys above,
Celebrate the feast of love.

Nowadays, refreshments and fellowship following the Eucharist picks up our instinct for elements of the Agape Meal.
In your own celebration of an Agape Meal, you can be creative. For example:
Grace for a meal, with prayers over drink and bread
Psalm(s)
Entree
Lighting candle(s) with prayer thanking God for light
Reading(s)
Main Course with discussion about the Readings
Shared faith reflection – what God is doing in my life
Prayers
Desert
Discussion about how much money to give away and to whom [Can do this online]
Hymn or song
Coffee or Tea
The Episcopal Church has a Blessings over Food at Easter in its The Book of Occasional Services 2018 (page 86). [It has an Agape Meal for Maundy Thursday on page 84]. You are free to use this resource in a household or congregational non-profit context.
Virginia Theological Seminary has produced Agape Meal rites for people in lockdown – including for an individual. And here is their accompanying webinar:
H/T for VTS resource: Rev. Dr Helen Jacobi
Previously:
Lockdown Liturgy Lessons 1 (3 minutes reading time)
Lockdown Liturgy Lessons 2 (5 minutes reading time)
Lockdown Liturgy Lessons 3 (4 minutes reading time)
Lockdown Liturgy Lessons 4 (4 minutes reading time)
Lockdown Liturgy Lessons 5 (4 minutes reading time)
Some of the other resources and reflections on this site for this Covid19 context:
Exsultet
Holy Saturday in a Covid19 World
Maundy Thursday, Good Friday, and Easter in a Covid19 World
Coronavirus solitude self-isolation and spirituality
Streaming services, online spiritual resources in coronavirus times
New Zealand Prayer Book Daily Prayer
NZ in lockdown
Covid 19 moves churches into the Third Millennium
Spiritual Communion
Carthusians Covid-19 and Communion
Learning from Hermits in a Covid19 World
Similar Posts: